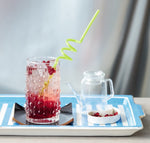 CBD Pomegranate & Kombucha Mocktail
Kombucha, a kind of fermented tea, is one of my favorite alcohol alternatives (keep in mind that many brands do contain trace amounts of alcohol, but that's less than 0.5 per cent per bottle). It's got fizz and complex flavor and it packs in those natural probiotics for better gut health. Pomegranate brings a tangy-sweet flavor that makes this drink pop, but feel free to play around with other fruit juice mixers.
60 ml/¼ cup pomegranate juice
¼ teaspoon CBD oil
120 ml/½ cup plain kombucha
ice cubes, to serve
1 heaped teaspoon pomegranate seeds, to garnish
Serves 1
In a medium-sized serving glass, combine the pomegranate juice, lemon juice and CBD oil and stir to combine. Fill the glass with ice and top up with the kombucha, giving everything another final stir. Garnish the drink with pomegranate seeds and enjoy.