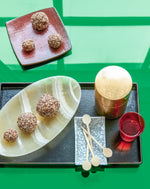 CBD Coconut & Pecan Bites
Pecan pie meet energy bites — I love to have these little snacks on standby, especially as the weather gets colder when their autumnal flavors make a welcome treat.
10 Medjool dates, pitted
115 g/1 cup raw pecans
75 g/1 cup desiccated/dried shredded coconut
1 teaspoon ground cinnamon
2 tablespoons hemp seeds
1 teaspoon CBD oil
¼ teaspoon sea salt
large plate lined with baking parchment
Makes 10–12/2 bites per serving
Combine all the ingredients in a food processor or blender and process until everything is finely chopped and well combined into a dough of sorts, scraping down the sides of the machine once or twice as you go.
Scoop out the mixture and roll into ping-pong sized balls. Place the bites on the lined plate and put into the freezer for 20 minutes to firm up.
Transfer the bites to a sealable container and refrigerate until needed. They will keep for up to 1 month.
1 tablespoon freshly squeezed lemon juice