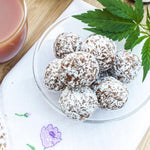 Coconut Hemp Brownie Bites ⁠⁠
Who doesn't love brownies? And we are loving these Coconut Hemp Brownie Bites from Sara Hinchliffe's "CBD and Hemp Remedies". You can easily make them in 15 minutes and they don't require any baking! ⁠⁠
⁠⁠
1/3 cup softened coconut butter⁠⁠
1 tablespoon or less of CBD oil depending on the miligram size you desire for each brownie⁠⁠
2 cups soft pitted dates⁠⁠
1 teaspoon vanilla extract ⁠⁠
1/4 cup powdered cocoa ⁠⁠
1 cup shelled hemp seed ⁠⁠
1/2 cup coconut flakes⁠⁠
⁠⁠
Combine softened butter with the CBD oil. Add pitted dates, coconut butter/ CBD oil, vanilla extract and the powdered cocoa and begin to process in a food processor. Add shellled hemp seed and continue processing untill they are thoroughly mixed in. Add half the coconut flakes and mix all ingredients until thoroughly combined. On a board or baking sheet lined with parchment paper, roll out the dough and coat with the remaining coconut flakes. Cut into little bites, refrigerate for 1 hr until firm and enjoy!