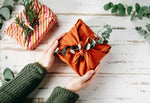 River Organics' Ultimate CBD Gift Guide
So, we know you are in the trenches as we speak, racking your heads to get holiday gifts for everyone on your list. We see you and we hear you. We thought we'd make your lives a little easier and simplify things with a curated gift list starring our favorite holistic remedy, CBD. As you already know, here at River Organics, CBD is our passion. We are proud advocates of, and love to celebrate, the powerful benefits this amazing supplement has to offer to enhance overall health and wellness. 
CBD is a fantastic and incredibly thoughtful gift option for anyone on your list, and the best part is - it's available in many different forms! So, whatever form will appeal to your loved one, from a traditional tincture to a fun and deliciously scented bath bomb, we have you covered. 
Ok, without further ado, let's dive into our guide to buying CBD as a gift.
CBD-Infused Wine
For all of your holiday dinners, family get-togethers, cocktail parties and cozy evenings, that perfect bottle of wine always adds an elegant touch to pull the event together. Consider one of our alcohol-free CBD-infused wines such as our Sparkling Hemp Sangria, CBD Cabernet Sauvignon or CBD Rose, and you're bound to have a hit no matter who you're buying for. Just like any of our CBD products, our CBD-infused wine will encourage a state of relaxation, helping to alleviate stress and tension as well as help you get into the holiday spirit - and because they're alcohol-free, there's no need to worry about a hangover!  
CBD Infused Loose Leaf Tea 
Are you feeling that chill outside? We sure are. With winter here, colder months are here to stay for a while, and what better way to warm up after a long day, or just after a brisk walk, then enjoying some delicious CBD infused tea?! Our Tranquility Tea with Hemp & Lavender is a wonderful gift on its own, or coupled with some delicious fresh baked cookies or jam and crackers. Or maybe even add in baguettes and charcuterie elements. This is a perfect gift to help a loved one get cozy, warm up and wind down, while staying hydrated and elevating their overall wellness. 
CBD Bath Bomb
Let's not kid ourselves, we've had a stressful year. So consider giving the ultimate gift of relaxation to a loved one with our CBD Bath Bomb. Anyone will enjoy adding a delightful CBD infused Bath Bomb to a hot bath for a special touch of therapeutic calm, serenity with an element of luxe. Each bath bomb is made with 100 mg of organic, hemp-derived CBD from plants grown on our Virginian farm, blended with skin-pampering ingredients for the perfect spa-like bath right in your own home.  If you know someone who needs some major TLC (yourself included!), our bath bomb is the perfect gift to bring a spa day to their home. Soaking in a CBD-infused bath can be a great way to recover from a tough workout, soothe inflammation, moisturize, or just de-stress and get away from it all!  And while you're at it, pick up one for yourself, too. We can all use de-stressing!   
CBD Lip Balm 
This is one secret that we can't keep between our lips! In the colder months, our puckers are in constant need of moisture, and never seem to get hydrated enough to avoid the dreaded chapping that comes with dry winters. You and your loved ones' lips all deserve some extra TLC, so try out our CBD-infused lip balm! This hydrating CBD Lip Balm was created to soothe delicate, chapped or cracked lips and protect them against everyday stressors like dry weather. Our lip balm contains 50 mg of full spectrum organic hemp extract, along with other natural ingredients like beeswax, shea butter, and essential oils, giving you a natural balm that will leave your lips feeling soft and smooth. Why not gift yourself, or a loved one, or both - heck, gift one to your whole family!  And they make awesome stocking stuffers!
"The Balm" CBD Skin Balm
Or better yet, consider our use-everywhere, Full Spectrum Organic CBD "The Balm"  skin balm that can be used on the whole body to keep the skin feeling soft and moisturized. Packed with nourishing ingredients like beeswax, shea butter and skin-loving essentials along with 75 mg of full spectrum, this skin balm soothes delicate dry skin (that we know all too well comes with winter days) and protects against everyday environmental stressors. Use under your eyes, the sides of your nose, elbows, cracked fingertips or knuckles, dry or cracked heels...the list is endless. It really is the the Balm, if we must say so ourselves! 
CBD Topicals - Massage and Pain Relief Oils 
Do you or your loved ones have some extra stress and tension in need of release? Don't we all! A fantastically thoughtful gift is one that not only offers relaxation, but enhanced pain relief as well. If you want to help yourself or a loved one knead out some knots and relieve tender muscles while feeling majorly soothed, consider our CBD Massage Oil. 
Or, for even more potent relief, give a gift of our Extra Strength Pain Relief Oil with Arnica. Offering the same plant-powered features of our original massage oil, our pain relief oil takes wellness to new heights with five times more full-spectrum CBD and the addition of Arnica. Athletes who always over-exert themselves, or people in your life who, unfortunately, deal with chronic pain are the perfect candidates for this incredible pain relief oil. This magic oil comes in a 1500 mg 1 oz roller ball bottle and 3000 mg 2 oz spray bottle sizes to add to the options of gift giving.  
Finally, for those on the go, we have just introduced our 600 mg Full Spectrum Organic CBD Pain Relief Stick. Our new pain relief stick is designed to help you keep  doing what you love. Packaged in an easy to use portable push up tube, your loved one can take this one while they're out and about, or keep it in their gym bag for quick relief after a tough workout. This little gem will help to relax muscles, reduce inflammation, and relieve joint pain and stiffness.
CBD Tincture 
No CBD gift list would be complete without an oldie-but-a-goodie - CBD tincture. Super versatile, our Organic Full Spectrum CBD infused tinctures make amazing gifts. They can be taken sublingually (under-the-tongue) or you can add them to your favorite recipes to infuse a drink or meal with the fantastic benefits of CBD. Our CBD tinctures come in an array of flavors sure to please your and your gift recipients' pallets. Our 300, 600 and 900 mg CBD tinctures come in Citrus, Mint or Natural flavors and our 1500 mg mg CBD tinctures come in Ginger + Honey or Cinnamon + Habanero flavors.
And for the culinary enthusiasts in your life, try gifting them with our CBD Tincture in Natural with a bottle of EVOO to make their own CBD Olive Oil or dressing/dish. This gift will allow your food-loving friend to enjoy the benefits of CBD with their meals and share the joy with their guests who come to celebrate!
Don't forget your furry friends!
Sometimes our pets' paws and skin need some love too. Nobody likes to see their pet suffer with patches of dry skin or an itchy rash. What's worse is seeing them scratch and rub against things to try and get some relief. The good news is that with River Organics Paw Relief Balm, you can give your pet relief from dry and scaly paws or snout, hot spots, itchy rashes and minor cuts quickly
Remember, you can always get creative and mix and match these gifts with one another to create your own CBD infused gift baskets! Think self-care baskets with bath bombs, lip balm, and massage oil or food and beverage-themed baskets combining CBD Cabernet Sauvignon with loose leaf tea, and a citrus or natural tincture with olive oil. Throw in some other self care or additional dining staples and you have just crowned yourself the king or queen of gift giving! With our wonderful array of new CBD-infused products for you and your loved ones' pleasure, the opportunities are endless. 
Happy gift-giving this holiday season!