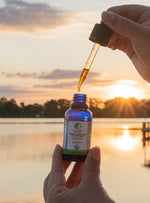 A Basic Guide to CBD Tinctures
As you've explored the CBD marketplace, you've probably found CBD available in many forms, including oils, tinctures, edibles, and supplements — not to mention, CBD is gaining popularity as an ingredient used in skincare and hair care products, even toothpaste! Clearly, CBD production and distribution are on the rise. With so many options out there, it can be tricky to figure out the best method to incorporate CBD into your wellness routine. 
Let's take a closer look at one of our preferred methods of incorporating CBD:  full-spectrum CBD tinctures. Here, we'll explore what they are, their benefits, and why they are our preferred method of introducing CBD into a daily regimen. But first, let's start with the basics.
What is CBD?
CBD, which stands for cannabidiol, is one of 113 natural compounds (also known as cannabinoids) that are produced by the cannabis sativa plant. Cannabis sativa is the scientific name for the hemp plant, a non-psychoactive sibling of marijuana, which is grown under strict testing requirements to maintain compliance with state and federal regulations. By law, hemp-derived CBD products are required to contain less than 0.3% THC by weight. This is not a sufficient amount to create any intoxicating effects on the user. 
While the benefits of CBD are still being studied, it is often used as a therapeutic remedy for managing stress and anxiety, insomnia, headaches, inflammation, chronic pain, to promote relaxation and clarity of mind, and to enhance overall wellness. 
Different CBD products, including oils and tinctures, offer various ways to access these potential benefits. The terms CBD tinctures and CBD oils are sometimes used interchangeably, and are often confused with each other. However, they are not the same thing, and it's important to understand their differences as you navigate the CBD marketplace.
What is CBD Oil?
The term CBD oil is most often used to describe a blend of CBD isolate and an inert carrier oil, such as MCT.  To make CBD oil of this type, CBD is extracted from the plant material using a solvent, which allows the CBD to be isolated from other compounds in the hemp plant, including other cannabinoids and terpenes, resulting in a very pure form of CBD known as CBD isolate. The CBD isolate is then often combined with a carrier oil to create the finished oil. These types of CBD oils are most often used to make edible CBD products, and can also be seen in topicals, such as salves and creams. 
What is a CBD Tincture? 
Generally speaking, a tincture is a concentrated herbal extract of plant material dissolved in alcohol. Tinctures are made by soaking dried or fresh flowers, leaves, stems or roots from one or more plants in alcohol (vinegar or glycerin are sometimes used in place of alcohol). The alcohol pulls out the active ingredients in the plant parts, concentrating them into a liquid form. 
To produce a CBD tincture, the cannabis is placed in food grade organic alcohol to extract its natural compounds, and then heat is applied to evaporate some or all of the alcohol. The resulting mixture contains a high concentration of CBD, as well as a full spectrum of compounds from the hemp plant, including cannabinoids, terpenes, flavonoids and other plant compounds.  
River Organics is passionate about your health and wellness. Only the highest quality full-spectrum CBD products will do, and we process our hemp to the highest standards in our state-of-the-art extraction facility. We use food grade organic sugarcane alcohol to extract full-spectrum CBD from our hemp plants. We then remove all of the alcohol, resulting in a thick, waxy/syrupy full-spectrum CBD extract.  We then suspend the CBD extract in MCT oil to further dilute the substance, rather than maintaining the form of a heavier wax.  Finally, we add flavorings to the mixture to make our CBD tincture more pleasant on the palate. 
Tinctures are stored in glass bottles with graduated droppers, which enable the product to be accurately measured and taken orally.  This is a very popular method in which to take CBD. 
What are the benefits of taking a full-spectrum CBD tincture? 
The Entourage Effect
Full-spectrum CBD tinctures contain CBD in combination with many of the hemp plant's naturally occurring compounds. Research suggests that CBD, when combined with its other naturally occurring compounds and cannabinoids, is more effective and therefore yields stronger therapeutic results, creating an effect known as the 'entourage effect.'  Thus, when the different compounds of the hemp plant come together to work synergistically, the effects are stronger together than they are individually.  
Better Taste
As CBD tincture is usually combined with flavor oils, the resulting mixture creates a more pleasing taste than that of pure CBD isolate. Common flavors of CBD tinctures are citrus, mint, peppermint and cinnamon. 
River Organics offers organic full-spectrum CBD tinctures in citrus for an invigorating burst of zest, or mint for an icy and refreshing flavor sensation. We are excited to introduce our high potency, organic full-spectrum CBD tincture, as well in your choice of Ginger Honey or Cinnamon Habanero flavors.
Fast Onset of Effects
You may feel the effects more quickly from taking a CBD tincture than by swallowing CBD oil or digesting a CBD edible, due to the way a tincture is administered. Typically, a CBD tincture is taken by releasing a few drops from the dropper sublingually (under the tongue), and letting it stay there for a minute before swallowing. This bypasses the digestive system, as the arterial blood supply under your tongue brings the CBD into your bloodstream more efficiently. The mouth's membranes are more receptive to the CBD, allowing for more effective absorption.  
You could also combine the tincture in a drink or food, but it will be absorbed more slowly. This means that it may take longer to feel the effects, and the effects may never reach full potency.
More Exact Dosing 
Determining the right dose of CBD for you is vital to ensure that you experience the effects you desire. Tinctures are a great way to find your preferred dose, as you can measure it precisely with the eyedropper included in the bottle, making it easier to adjust your dosage to identify the right dosage that will work for you. 
At River Organics, it is our passion to promote the overall health and wellness of our customers, our community and the planet as a whole. This is why we are committed to producing all of our CBD products entirely organically, sustainably, responsibly and ethically at our family-owned farm in the Chesapeake Bay watershed. All of our CBD products contain well under the legally required 0.3% of THC, to ensure that you can enjoy their therapeutic benefits without any intoxicating effects.  
Organically produced CBD is a healthier choice for you and a more responsible choice for the environment. It is important to note that CBD is a bio-accumulator, meaning that herbicides used during production of the hemp plant are absorbed by not only the plant, but leach into the soil, potentially harming the health of the planet. By choosing organically sourced and produced hemp, you can ensure that your CBD will not contain harmful substances absorbed from the soil, and that it has been produced in a responsible, ethical and sustainable way.