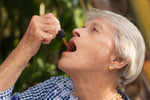 Can You Give CBD to Elderly Family Member? | River Organics
As we age, managing health becomes a regular concern, and everyone looks for solutions that let them continue to enjoy life to the fullest. If you have older loved ones, you may have sought out ways to help them feel their best and enhance their wellness. 
Here at River Organics, we are adamant about the amazing potential CBD has to help with a variety of conditions and elevate wellbeing, while also helping to alleviate pain, stress and anxiety. But the question you might be wondering is, "Can I give CBD to an elderly family member?"
We will be exploring this question more closely, and look at how CBD can be of incredible benefit to not just you, your furry friends (Read more about that at the link!)  — but also your elderly loved ones. So, truly the whole family can feel their best.  
First, what is CBD?
Yes, cannabidiol (CBD) is derived from the cannabis sativa plant, but no, it's not going to make you high. Unlike marijuana which has higher levels of THC, CBD that originates from hemp is required by law to contain less than 3% THC, which is not a sufficient amount to produce psychoactive effects on its user. 
So no, Grandma will not get stoned by using CBD.
While many seniors are prescribed medical marijuana with active THC, others are more likely to embrace CBD, specifically because it won't make them high.
How does CBD work?
CBD interacts with the body's own endocannabinoid system, helping to bring it to a state of equilibrium which also produces a relaxing and calming effect. It has also shown an ability to serve as an anti-inflammatory with pain-relieving effects that help with pain management.
Some research indicates there are two cannabinoid receptors in the body—in the brain and in immune system B cells. The compounds found in CBD products may work by binding to these receptors.
How common is CBD use among the elderly?
The numbers are definitely increasing. That's hardly surprising, since most people are willing to try a solution that touts health benefits with little downside.
In fact, according to a 2020 Consumer Reports study, 20% of Americans over the age of 65 say they have tried CBD oil, up from 14% the year before. Usage is increasing, but 49% of seniors still say they haven't heard about CBD. If you mention it to an elderly family member, they may not be familiar with it yet. 
While those numbers reflect the growing interest in CBD products, they don't provide insight into their efficacy or, perhaps even more importantly, their safety. When you're debating its use for an elderly family member, those can be the most pressing questions.
How safe is CBD overall?
No matter what questions one may have about its ability to make people feel better physically and mentally, you can be assured that CBD is generally safe to use. With the FDA already approving one drug which is CBD-based, physicians are more confident about suggesting it, and we've seen a rise in books about the topic authored by physicians using CBD to treat patients regularly.  
Whether it's tinctures, topical products, edibles, or capsules, CBD is used for many different ailments or issues, including arthritis relief, pain relief, PTSD, and insomnia. It also appears that CBD does not seem to have the potential to lead to dependencies or addiction. Even when it has been administered in large doses, as much as 1500 milligrams a day, CBD did not lead to feelings of euphoria—like those associated with THC—and none of the problems that develop from prescription painkillers have surfaced.
How safe is CBD for the elderly?
Sure, CBD is generally safe for most adults, but it is important to note that the elderly population can be more prone to side effects from any medication. Any concerned family member will have questions about the effect of CBD on Nana and Grandad.
But many seniors turn to CBD precisely because it has so few reported side effects. It's becoming a first-line remedy, one that can be tried with minimal risk.
More than 50% of all seniors report suffering from pain, and this population is more likely to suffer from chronic pain. Up to 30 percent of seniors suffer from chronic pain. Since CBD can alleviate the symptoms of pain, it is important for seniors to learn more about CBD as an alternative to addictive painkillers and other medications with harmful side effects.
What should you look for in a CBD product for an elderly loved one? 
It's important to keep in mind that as the Food and Drug Administration (FDA) does not currently regulate CBD products, not all CBD products are equal in their standard of safety and quality. 
Generally, you should look for the following to ensure that your CBD product will be safe, of the highest quality, and therefore most effective for your elderly loved one.
Derived from

high-quality, organic hemp

grown in the US

Produced by a company that provides proof of third-party testing

Contains no more than 0.3 percent THC, according to third party testing and a COA (certificate of analysis) 

Is free of pesticides, heavy metals and molds, according to the COA
What forms of CBD will be beneficial for your elderly loved one? 
CBD is now available in many different forms, from tinctures and topicals to bath bombs, skin care products, digestibles,etc. 
Tinctures that are taken sublingually (under-the-tongue) typically yield a more potent effect of CBD than other methods of delivery, and their effects generally last longer. Here at River Organics, our full spectrum, certified USDA organic tinctures are available in 300, 600 and 900 mg in citrus, mint and natural flavors to suit any palate. We also carry a 1500 mg high potency version in Ginger Honey or Cinnamon Habanero. 
If your loved one has localized aches, pains or injuries, or prefers to apply their CBD topically, we offer CBD massage oil, extra strength pain relief topical oil with the addition of Arnica (we call this one "magic oil"), and a CBD pain relief stick.  All of these help to alleviate pain and inflammation from a number of causes, and since they're applied directly to the area, provide targeted, fast relief.
CBD can also be a fantastic ingredient to add into your recipes for an easy way to incorporate into a wellness routine. 
Check out our collections to see our new CBD food and beverage additions. 
So, is CBD something I should suggest to an elderly family member?
Reported side effects of CBD are extremely low, and many have found relief from pain and other conditions through the use of it. Compared to prescription painkillers, it is a safe choice—how much relief it provides will vary from one person to another, and consistent daily use is key to long-term results.
If you have an elderly family member who is suffering from pain, insomnia, or anxiety, researching CBD can be a good step. Talk to your loved one and their physician, and make an informed choice.
At River Organics, our passion is to cultivate the health and wellness of our customers, our community and the planet as a whole. We are committed to promoting environmental stewardship and sustainability. That is why we abide by strict practices in our production to ensure that all of our CBD products are made organically, sustainably and ethically at our family-owned farm in the Chesapeake Bay Watershed. All of our CBD products contain well under the legally required 0.3% of THC to ensure  that you and your loved ones can enjoy their therapeutic benefits without any intoxicating effects.