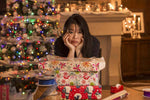 6 Smart Ways to Deal with Holiday Stress
The holiday season is all about cheer, joy, and get-togethers with family and friends, right? What could go wrong? Sure, it's hard not to feel in a celebratory spirit during the holidays, but along with that positivity, during one of the most hectic, high-energy and high-pressure times of the year, it's normal to feel stress, too.
During the festive season, we're supposed to enjoy time off with our family and friends, but what often happens is that we get bogged down by stress caused by work deadlines or end-of-year reports. There's also the endless planning and attending of holiday social events and family dinners, or perhaps you are coordinating travel plans, etc. And of course, the number one holiday stressor is...drum roll please... buying gifts for everyone on your list that they won't want to chuck the moment they see them!
When you couple work pressures with family stress, holiday shopping shopping, and way too many plans - you get a wonderful mess of feelings referred to as holiday stress.
In today's post, we want to offer some smart stress-relieving techniques to help ensure you can enjoy a holly, jolly holiday season!
Keep a Calendar
Whether you prefer to use a virtual calendar on your cell phone, laptop, desktop or a paper version like a wall calendar or schedule book - the holidays are the ultimate time to utilize these super useful organization tools in your life. Trust us, you'll be happy when you realize what a difference these handy tools can make in holiday planning and organization of all your end-of-year calendar events. And once everything is properly logged, you will be sure to feel some relief as the stress of holiday pressures begins to dissipate. 
Keeping track of invites, deadlines, and holiday to-dos can be very cumbersome, and hence, stress-inducing. Whether you are someone who is highly visual and needs a large calendar hanging in the most visible place as a constant reminder, or someone who is tech savvy and works better with pop-up notifications on their devices — find an optimal method that works for you to help keep you on track and reduce unnecessary stress.

Try Guided Meditation
Ah, meditation. If this is something you've kept on the backburner until now, you should definitely consider trying it now to alleviate holiday stressors. And the same goes for your friends, your neighbors, the whole family! Join a few guided meditations where you can learn breathing techniques and other ways in which you can help relax your body and mind during times of stress. 
Since we always seem to be in a rush and time is so precious, this holiday stress relief technique actually works perfectly, as it doesn't take too much time, while still remaining quite effective. 
Who knows? You may enjoy the effects of meditation so much that you will find yourself taking a few minutes here and there to guide yourself and loved ones through short, slow breathing sessions or mini meditations, to calm everyone's nerves during the holiday season.

Make a List
This holiday season, get ahead of the game when it comes to planning and gifting. One thing that always helps is lists. Make a list, check it twice, (err, we couldn't help ourselves!) keep it organized, and update it. Just trying to make sense of who needs what gifts and when they need to arrive (given this year's shipping delays), can send your head into a chaotic frenzy of worry.  Good planning with list-making and foresight into what they're calling Shipageddon Round 2...can make all the difference in helping to alleviate holiday stress this time of year.
Stick to Healthy Habits
We all cope differently with stress. Some of us over-indulge, (especially this time of year when seasonal, delicious foods are at the plenty) and others may feel like snacking all day a little here and there. During the holiday season with endless goodies and fun times in sight, it can be hard to remember that we must also nurture our bodies and keep up with our health. 
You may be losing sleep or not getting enough quality sleep. Or you may be resorting to your vices (we all have them) such as too much alcohol, excessive caffeine, etc. Deep, restful sleep is vital, in line with proper hydration and nutrition, staying active and remembering to stretch and move your body, and to keep vices to a moderate amount as much as you can (we know it's not easy!) 
Just knowing that you are making an effort to take care of your body, and enjoying the benefits that comes with it, can help keep stress at bay. 
Use an Organic, CBD-Based Remedy
When you start to really feel the pressure build up, you can count on CBD - an amazing, holistic remedy that will help you unwind, clear your mind and relieve unwanted stress. We here at River Organics are passionate about educating our community about the wonders of CBD, and the incredible host of benefits it offers to enhance overall health and wellness. 
Here are a few things to keep in mind when it comes to CBD: 
CBD products which originate from hemp are required by law to contain less than 0.3% THC —  an amount that is too low to produce any intoxicating effects on its user. It's crucial to choose a high-quality, organic CBD product, as it is a healthier choice for you and the planet. In addition to potentially many other health and wellness benefits, CBD has a natural calming effect on the body, helping to release tension, stress and anxiety. 
While CBD has been popping up in the marketplace in various forms in recent years, one of our favorite ways of easing holiday stress is with a full spectrum, organic CBD tincture. Just a few drops sublingually (under-the-tongue) and your worries will begin to melt away, so you can merrily join in the season's festivities. Or, if topicals are more your thing — try our pain relief topicals and massage oil. 
And CBD-based remedies make the perfect holiday gifts! Pick up one for yourself and anyone in your life who can use some de-stressing. They will be sure to appreciate it. 
Balance is Key
We may feel at times like, if we are extended a gracious invitation from coworkers, friends, or loved ones during the holidays, that we have to say yes, and do our best to make it. Well, there is certainly such a thing as a social calendar that is beginning to burst at the seams. And yikes, can that pose a great deal of holiday stress! After all, you don't want to let friends, work and loved ones down. 
We know it may be difficult for some of you socialites out there to say no to events and affairs, but attempting to participate in all of the holiday events, activities, celebrations, secret Santas, etc, may actually be detrimental to your health and can definitely do a number on your sanity. What is crucial to easing holiday stress? Balance, my friend. 
So, simply put. Learn on occasion, to say no. 
On that note, we wish you a wonderful, happy and stress-free holiday season. Cheers!