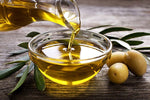 How to Make Your Own CBD-Infused Olive Oil
You may have seen our last blog in which we explored what you need to know about cooking with CBD. Well, we wanted to keep things cooking (sorry, couldn't resist!) and talk about another CBD-infused recipe that we love, and can't wait to share with you!
Today, I'm going to teach you how to make your own CBD infused olive oil at home, and then dive into how to make a red wine vinaigrette salad dressing featuring your new olive oil that will have your friends talking for weeks. This recipe would be a great place to start if you are considering cooking with CBD oil, but not sure where to begin. 
Make Your Own CBD-Infused Olive Oil at Home
First, pick up a bottle of your favorite olive oil. We recommended using extra virgin olive oil as it is the highest quality olive oil. Typically, there are olive oils that you would use for cooking/frying and there are other types of olive oils that are better suited for dressings. Since it is advised to not heat a CBD-infused olive oil (in order to preserve the CBD benefits), we recommend choosing an oil that is best for dressings.
Next, jump on our website and order an Organic CBD Tincture in Natural Flavor. They are available in 3 strengths, so use the chart below to see how much CBD oil you want to add into your olive oil. If in doubt, we suggest starting with a 300mg tincture and making the 10mg recipe and then moving up from there. We've done the math for you if you use the 600mg or 900mg tincture as well.
Finally, add the tincture into your olive oil, and mix until well combined. Our tinctures are oil-based, so the two ingredients will blend nicely together. We used a blender in our test kitchen in order to ensure that the tincture was evenly distributed, but a good whisk should do the trick.  
You now have your CBD-infused olive oil! Easy, right? 
Ok, so now what can you do with it?
Since it's still summer for at least a few more weeks, there are probably plenty of fresh vegetables available that you can pick up at your local farmer's market. Maybe you even have your own garden, or a neighbor who is frantically trying to give you vegetables because he/she cannot eat them all. Perfect!
So, let's make a CBD vinaigrette that you can use to make a delicious and savory summer salad. Here is the recipe!
Basic Vinaigrette with Red Wine Vinegar/or Balsamic vinegar
½ cup CBD infused olive oil of your choice 
3 Tablespoons red wine vinegar/balsamic vinegar according to preference
1 Tablespoon Dijon mustard 
1 Tablespoon maple syrup or honey
2 medium cloves garlic, pressed or minced
¼ teaspoon fine sea salt, to taste
Freshly ground black pepper, to taste
Combine all ingredients in a small bowl. Stir well with a whisk or fork until ingredients are well blended.
Taste and adjust as necessary. You may want to add more vinegar to enhance the tartness. Serve immediately or cover and refrigerate for future use. The olive oil may solidify in the refrigerator, but it will be fine after sitting at room temperature for 5-10 minutes.
My CBD-infused olive oil was 20mg CBD per TBSP.  At half a cup of oil, or 8 TBSP, I had a fair amount of CBD in our salad.  Depending on how much salad dressing you like on your salad you may want to cut this down to 1/3 cup. Since I did not have Dijon mustard at home, I went with a spicy brown mustard which worked just as well. I also used local honey that I obtained from our bees right here on our hemp farm and I used pink Himalayan salt because it was the easiest to come by in my pantry. 
I then made up a salad of mixed greens (from the grocery store because my lettuce did not do well this year) with tomatoes, green bell pepper, radishes, and cucumbers from my garden. I put 2-3 tablespoons of dressing on the salad. If you like fruit in your salads, I recommend the balsamic vinegar version which goes beautifully with strawberries!
The results: My husband was quite impressed. (Understand that he is a ranch dressing kind of guy and would never order a vinaigrette at a restaurant.) The River Organics team also enjoyed dipping fresh sourdough bread into the vinaigrette, which is another great option if you're not a huge fan of salads. 
Labor Day weekend is just around the corner, so impress your friends this year with a vinaigrette salad made with your very own CBD-infused olive oil!
We at River Organics will be coming out soon with a USDA Certified Organic CBD infused Olive Oil. We hope you'll try ours, but in the meantime try making your own!
Our Guest Blogger, Melanie
Melanie Storrs is our brilliant Packaging and Fulfillment Coordinator, but she wears many hats (as a start-up, we all do) and also does customer service and sales, blog writing, product development and harvesting, just to name a few.  When not at work, Melanie can be found on her mountain bike, tending to her garden, hiking with her son's boy scout troop, planning a master gardener plant sale, or spending time with her family.