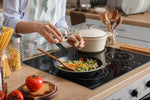 Once considered taboo, CBD has become increasingly mainstream in recent years. More and more people are discovering the incredible health and wellness benefits CBD can offer, and adding CBD to your favorite recipes is one of the best ways to enjoy its versatile influence.
Taking flavorful CBD tinctures can be a great way to add CBD to your wellness routine. But it doesn't have to end there. You can also cook using CBD and create your own delectable CBD recipes!
In a previous blog, we looked at some of our top tips and tricks for cooking with CBD. 
Today, we wanted to dive even deeper, offering you an in-depth guide for everything you need to know to cook with CBD. 
And we even threw in some awesome CBD recipes at the end, that we are obsessed with and know you're going to love too! 
What are the Different Ways in Which You Can Take CBD?
As proud advocates of CBD, one of the things we love about this amazing supplement is how incredibly versatile it is. It can be taken orally through a tincture, you can enjoy its soothing effects as a topical or massage oil, and yes, you can even cook with CBD, as well. At first thought, you may be wondering why you would want to cook with CBD if you could just take it directly in the form of a tincture. In order to answer this question, we need to take a closer look at the different ways our bodies process CBD depending on the way it's taken.
CBD taken orally is typically dropped under the tongue (sublingually), and it is quickly absorbed through the membranes in the mouth, bypassing the digestive system, and absorbed into the bloodstream for quicker effect. CBD you ingest in edible form, however, is absorbed by the digestive system. Finally, CBD you use topically, absorbs into the skin where its pain-relieving effects can be appreciated directly.  
Any of these ways of taking CBD can be effective methods for experiencing the herbal supplement's powerful health and wellness benefits. One thing to keep in mind, however, is that as CBD is absorbed and processed differently by the body depending on the way it is taken, certain methods of taking CBD may be better suited to one situation over another. 
How Does Cooking with CBD Work?
CBD tinctures are fat-soluble, meaning our body absorbs the CBD best when it is paired with other ingredients that contain fat. Typically, you use some kind of fat in your cooking anyway, so it should be easy to incorporate CBD into all of your favorite recipes! Fatty cooking oils and fats such as olive, avocado and coconut oils or ghee, will help the CBD absorb more effectively and will enhance the flavors of so many delicious, sweet and savory cuisines. 
Why Would You Want to Cook with CBD? 
Now that we know that cooking with CBD is just one of the wonderful ways in which this incredible, therapeutic remedy can be enjoyed, let's explore the benefits of cooking with CBD.
CBD Enhances Food's Flavor
CBD can help intensify the flavor of your dish due to the glutamic acid present in parts of the hemp plant. Glutamic acid is an element within the amino acid family, and it has the ability to enrich foods with the taste of umami, endowing cuisine with a savory and rich flavor, without the side effects of using MSG. 
Gradual, Longer Absorption in the Body 
While taking CBD tinctures sublingually is usually recommended to experience the most potent effect of the CBD, you may prefer to ingest CBD instead. When CBD is taken sublingually, it enters the bloodstream and acts rather quickly, taking effect in the body within 30 minutes. On the other hand, when you ingest CBD combined with food, it takes longer to be digested and processed through the digestive tract, and will take between 30 minutes to an hour to start showing effects. In this way, it is gradually absorbed by the body and into the bloodstream. 
It's a Discreet Alternative When You're On the Go
Cooking with CBD enables you to incorporate the supplement into your meals or snacks in advance. That way you can always count on having your next dose, even when you're on the go. This can be especially helpful and convenient for those attending social events or public places, where vaporizing/smoking CBD is not an option, or perhaps taking a tincture/oil might feel out of place or draw the attention of others. By adding CBD to your lunch or breakfast shake, there is no way for anyone to know you're taking your daily dose unless you tell them.
It Makes It Easier to Add CBD to Your Wellness Routine
Many people don't enjoy the naturally bitter and strong taste of CBD in tincture form. Adding CBD to your favorite recipes is an easy way to disguise and dilute its potent flavor and smell. You can always try experimenting by adding it to butter or honey and have an infused mix ready to use on your morning toast or your night tea. Adding it to some guacamole is also a great idea as the healthy fats in avocado increase absorption, or simply try adding it to your pasta sauce or any of your favorite baked goods. Just remember to stick with recipes that require low heat to preserve all of the great benefits CBD has to offer. 
Cooking With CBD Is a Much Healthier Alternative to Smoking It
Contrary to popular belief, smoking CBD may not be that different from smoking cigarettes and can expose you to the same toxic and harmful compounds you would typically find in cigarette smoke. Cooking with CBD helps you avoid any harmful side effects, as well as protects you against potential damage to your lungs and immune system. Also, cooking with CBD allows you to have more control of your dose, as opposed to smoking it, which can make it considerably more difficult to measure your dose.
How to Determine Your Dose of CBD to Add to Food
It may take some experimentation to find the best dose of CBD to add to your recipes. If you're a first-time user, we recommend you start by adding a low dose to your recipes and see how your body responds to each dose increase. Always take into consideration the potency of the CBD oil you're using before you decide to add it to your food. 
It's good to start with small batches until you work out the best CBD oil to food ratio for you. We usually recommend you add your CBD using servings as your standard of measure. Let's say you're used to taking 10 mg of CBD a day, then you'd want to add 20 mg if you're cooking a serving of two, 40 mg if you cook four servings, and so on. As you get used to cooking with CBD, you'll start to figure out the best dose for you, whether it requires adding a little less or a little more. 
Final Thoughts: Cooking With CBD
Adding CBD to your favorite recipes can be a great way to start incorporating it to your wellness routine and reap the many potential health benefits that come with it. Who would've thought adding one new ingredient to your usual recipes could make your meals so much more rewarding and beneficial? That is the beauty of cooking with CBD — just by adding a few drops to your favorite drinks, dishes, or snacks, you could be starting your journey towards enhanced wellness and wellbeing!
Are you ready to start adding CBD to your favorite recipes?  Once you see how easy it is to cook with CBD, you'll want to add it to all of your favorite meals and snacks! 
Now, Let's Get Cooking!
CBD-Infused Drinks
Using CBD oil in drinks is an easy and excellent way to incorporate CBD into your regimen. This refreshing lemon honey tea is both soothing and packed with immune-strengthening ingredients to supercharge your wellness. 
Lemon Honey Tea
Ingredients: 
 teabag (can be black, green, or oolong) 

4 glasses of filtered water

20mg of

citrus organic CBD tincture

5 tablespoons of honey

2 tablespoons of lemon
Preparation:
Boil the water

Transfer to a large jar or pitcher and submerge your preferred tea bag until you get the perfect tea

Add in honey, CBD oil, and lemon

Stir until everything mixes well 

Serve hot
Looking for a fantastic cocktail to serve to your guests or just to relax and enjoy after a long day? Try this new take on an old favorite. 
CBD Mint Julep Cocktail
Ingredients:
1/2 an ounce of simple syrup

8 mint leaves

4 tablespoons of bourbon
Preparation:
Place the mint leaves in any size glass and crush using a muddler

Pour in bourbon, simple syrup, and CBD

Add ice and mix

Serve cold
(For an even more minty cool flavor, try using our mint flavored CBD tincture)
CBD-Infused Snacks 
It's also easy to bake with CBD thanks to the fact that you typically always bake with some sort of cooking oil. These yummy CBD-infused chocolate chip cookies are the perfect midday snack or dessert to satiate your sweet tooth.
CBD-Infused Chocolate Chip Cookies 
Ingredients:
1 cup of wheat flour

1/4 cup of milk chocolate chips

2 tablespoons of sugar

1 tablespoon of baking soda

2 teaspoons of coconut oil

1 egg

1 tablespoon of vanilla extract

1 cup of butter

CBD oil (7 to 15 drops)
Preparation:
Preheat the oven to 375 degrees

Add flour, baking powder, coconut oil, and chocolate chips to a bowl and stir together thoroughly

In a second bowl, mix coconut oil, melted butter, egg, vanilla, sugar, and CBD oil until the batter is smooth

Pour the first bowl into the second bowl and create a dough

Pinch the cookie dough and create cookies by using your palm flatten

 Bake for 9 to 11 minutes
Savory CBD recipes
Want to make savory dishes using CBD oil?
Burnt Carrots with CBD-Infused Brown Butter from Bon Appetit 
Ingredients:
1 lb. large carrots (about 3 fat ones), cut into ½"-thick rounds

1Tbsp. extra-virgin olive oil

Kosher salt

2 small shallots, cut into ¼" rings

1 6" square sheet of

nori

, torn into bite-size pieces

1 garlic clove, crushed

3 Tbsp. unsalted butter

½ tsp.

CBD oil

2 Tbsp. fresh lime juice

Flaky sea salt
Preparation:
Place a rack in the top third of the oven; preheat to 450°. 

Toss carrots and olive oil on a large rimmed baking sheet. Season with kosher salt. 

Roast carrots until lightly charred around the edges and just tender in the center (about 15-18 minutes). Let cool. 

While carrots are cooling, cook shallots, nori, garlic, and butter in a small saucepan over medium heat. Stir until butter is browned and nutty-smelling and shallots are golden (about 6–7 minutes).

Remove the saucepan from heat and allow to cool for a couple of mins. Add CBD oil and stir to combine.

Transfer carrots to a plate. Spoon butter dressing over. Drizzle with lime juice and season with sea salt.
Hungry for even more? Be sure to check out our Recipes page to learn how to make more decadent and delicious dishes and snacks! Also, stay tuned for our next blog to learn how to make our new favorite CBD-infused olive oil salad dressing!
Incorporating CBD into delicious recipes is becoming more and more popular. We hope you enjoy the recipes here! Remember, whether you take a CBD tincture directly, or add it to your morning smoothie, it's important to know what's in the product you're using.  Always choose the highest quality, USDA certified organic CBD product made with your optimal health and wellness in mind.
At River Organics, our passion is to foster our customers' overall health and wellness, our community, and the planet as a whole, while promoting environmental stewardship and sustainability. We are committed to producing all of our CBD products entirely organically, sustainably, responsibly, and ethically at our family-owned farm in the Chesapeake Bay watershed. All of our CBD products contain well under the legally required 0.3% of THC to ensure that you can enjoy their therapeutic benefits without any intoxicating effects.