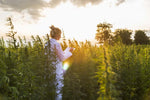 Why is Organic CBD Crucial in an Unregulated Industry? | River Organics
In recent years, CBD has exploded onto the market. From the shelves of your local convenience store to all over the Internet, CBD has become more and more prevalent. But while CBD has grown in popularity, the regulatory framework surrounding it hasn't changed and has become more complicated than ever before. 
Of course we're passionate about CBD, and the amazing benefits we've seen our customers experience with its use, but we understand some of you may still be skeptical in regards to the regulations around CBD.  This is why we want you to have all the information you need to choose high quality products that suit your needs.  
So, today we'll take a closer look at federal regulatory guidelines controlling CBD, to ultimately help you gain a deeper understanding why choosing USDA certified organic CBD products is so important. 
What Does the Regulatory Framework Around CBD Look Like?
The federal regulatory framework for the CBD industry is multi-layered. Farming regulations mandate THC concentration limits established by the Drug Enforcement Association (DEA) that are regulated and intensely monitored by the USDA. CBD is currently classified as a food additive by the FDA. This means that CBD can be used in foods and beverages, but it must meet certain safety standards. However, the FDA has not yet approved CBD for use as a food additive, so companies that want to use it must file a petition and receive approval from the agency. It's worth noting that FDA approval is not required for CBD to be used in foods and beverages, but with no established safety standards or consumer protections. 
Are you confused yet?  You're not alone.  Overall, the CBD industry is unregulated. (The regulations that do exist are focus on THC concentration and mandate that CBD products contain no more than .03% THC) This means that CBD producers are free to use any methods, materials, pesticides, herbicides or any other toxic or synthetic substance you can think of while growing their hemp plants. Then, once plants are harvested, there are no (none, zero, non-existent) mandatory safety standards or regulations that producers of CBD products targeting consumers must comply with. 
Why is It Crucial to Choose Certified Organic CBD Products? 
Simply put, the quality of CBD products is left solely in the hands of the producer. This means that it is vital to choose only CBD products that have been certified by an accredited third-party organization, to ensure you are receiving quality products. With that said, it is hard to find a more reputable third-party organization than the United States of America Department of Agriculture.
I know what you're thinking, how can federal regulation be pending while at the same time present?  USDA organic certification is a voluntary program that has been in place since 1972. So, while there is no federally mandated regulatory framework for producing CBD products, CBD producers can choose to be regulated by the USDA National Organic Program. 
It is vital that a CBD product is certified organic, as this ensures that it meets national organic program standards  These standards include prohibiting the use of synthetic fertilizers, pesticides, and other prohibited materials. To handle and process organic crops, the producer must be certified by an accredited certifying agent. The entire production site, as well as all aspects of production, must meet national organic program standards and producers are held accountable through mandatory annual record keeping audits and on-site inspections. 
When you see the organic certification seal, you can be confident that the product you're purchasing is of the highest quality. The USDA's organic seal verifies that the CBD product you're buying was produced in an environmentally responsible manner and handled with attention. It's worth noting that hemp cultivated for CBD isn't always organic. However, when looking for a quality product, it should be free of pesticides and fertilizers, as well as have third-party laboratory testing reports verifying the product's purity.
What are the Differences Between Organic and Conventional Farming? 
In contrast to organic farming, conventional farming relies heavily on synthetic fertilizers and pesticides to achieve high production yields. Since hemp is a bioaccumulator, (which means that it gathers toxins from the soil and holds them in its roots, stem, leaves, flowers, even pollen) the toxic substances used in conventional farming will be present in retail consumer products. 
This is why it is so important  to choose a certified organic CBD product, which ensures that these toxins are not present in your product. River Organics' eco-friendly products are produced using the finest full spectrum CBD oil that is extracted with organic sugarcane ethanol, which does not add any harmful chemicals into the final product. This makes it a MUCH better alternative than denatured ethyl alcohol, which is a petroleum-based solvent used by some processors that tends to contain toxic substances such as carcinogens and neurotoxins.
At River Organics, our mission is to cultivate the health and wellness of our customers,  community, and the planet as a whole. We are committed to producing all our CBD products organically, sustainably, responsibly, and ethically at our family-owned farm in the Chesapeake Bay watershed. All of our CBD products contain under the legally required 0.3% of THC to ensure that you can enjoy their therapeutic benefits without any intoxicating effects.