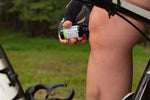 Using CBD To Enhance Athletic Performance
CBD to enhance athletic performance 
One of the reasons we are such avid advocates of CBD is for its wealth of incredible health and wellness benefits and versatility of use. CBD is not only an amazing holistic remedy to promote wellness and balance of the mind, body and spirit, it can be used in applications for so many aspects of our daily lives, including to support us in our fitness endeavors. CBD shows promise in helping to enhance athletic performance, not only for the serious athletes amongst us, but also us regular folk in our day-to-day workouts. Let's take a closer look at how CBD can be used to elevate athletic performance.
CBD for overall health and wellness
With its ability to interact with our body's own endocannabinoid system, CBD supports the body's defenses to promote a state of balance and overall wellness. Research has indicated that CBD has the potential to help with a number of ailments and health issues, including helping to alleviate stress, tension and anxiety, enhancing clarity of mind, as well as supporting effective pain management and reducing inflammation. 


Bolstering Workouts and Enhancing Recovery 
This leads us to the question of whether CBD can be used to boost workout performance, as well as enhance recovery after a workout or other athletic feat. Whether your fitness consists of high intensity intervals, strength training, core building, endurance training, or yoga, CBD may be a solution to help not only boost your performance, but help with your recovery afterwards.
To determine when to take CBD to best support your fitness goals and needs, you'll want to first assess your particular workout challenges. 


Assessing Your Workout Challenges 
Studies have shown that CBD offers a number of physiological, biochemical and psychological effects that have the potential to benefit athletes of all types. Whether you're a runner, a dancer, a wrestler, a fencer, a gymnast, pilates enthusiast, yogi, or just an avid gym goer — CBD can help to enhance your performance. CBD's qualities are so versatile, it can support better performance during a workout, as well as soothe post-exercise inflammation and help your body recuperate in preparation for its next athletic session.
When it would be optimal for you to take CBD is dependent upon your individual workout needs. Let's break down some various challenges you may experience pre and post workout to better understand how CBD can impact your athletic performance. 
Taking CBD Before Your Workout
Enhancing quality of sleep 
Prepare for the day, and your workout, with proper sleep, courtesy of CBD. Nothing will throw you off your A-game like the feeling of not being well rested. Current hot topics of discussion around sleep make it more and more evident that it's not just about how many hours of sleep you get, but also the quality of sleep you receive, to support wellness and best prepare you for the day ahead. With its ability to promote relaxation, CBD can work wonders to soothe you into a state to more easily fall asleep as well as stay asleep longer for more well-rested shuteye. What better way to start your day, and workout, than feeling truly well rested?  
Reduce anxiety and focus in on your goals
Another way in which CBD can help pre-workout is by helping to control your anxiety and increase your focus on your goals. Sometimes, you may enter into a workout very hyped up and ready to train. But with your adrenaline peaking and feeling a rush of excitement, you can also experience waves of anxiety. This anxiety can significantly impact your athletic performance, creating muscle tension, worsening hand eye coordination, and even make you feel physically ill. CBD has been shown to be effective at relieving tension and anxiety to free your mind and body up to facilitate improved athletic performance. 
How can you take CBD pre-workout? 
Taking CBD pre-workout can help set you up for more optimal athletic performance, while enhancing your overall health and wellness. For pre-workout use, we recommend finding the right dosage of our versatile, full spectrum and certified USDA organic tinctures. They are easy to use, and when taken sublingually (under-the-tongue), say while on your way to your training session, will take effect almost immediately, allowing you to get the most out of the workout to come. Aso, when taken sublingually, they yield the most potent results, quickly activating in the bloodstream. 
Taking CBD After Your Workout
Aid in Your Muscle Recovery 
If your challenges from your workouts center around healing inflammation and muscle soreness, then you could benefit greatly from incorporating CBD into your post-workout routine. Again, reverting to CBD's wonderful ability to help quell pain and inflammation, there is no better way to help your body recuperate, relax, and heal between workouts. CBD is used by athletes and gym goers alike, to help reduce post-workout soreness, muscle tension and inflammation, while aiding in overall muscle recovery. 
How can you use CBD post-workout?
Many athletes, whether professional or home workout warriors, use CBD topicals to target specific areas of soreness. On its own, CBD tends to have low permeability, meaning it doesn't absorb into the skin very well. However, when it is blended with a carrier oil like jojoba, in which our massage oils are based, the CBD is able to penetrate past the skin's surface, reaching the source of your pain or soreness to provide relief. 
For more intense muscle pains or persistent soreness, try our Extra Strength Pain Relief Oil with Arnica or our Full Spectrum Organic Pain Relief Stick. Both of these products are excellent to use for post-workout inflammation to roll onto extra sore spots. They can be easily thrown in your gym bag, together with other essentials like water. Having these readily on hand can help your body more optimally heal from your workout, and physically prepare for your next intense session. 
So don't forget what may become your most important workout partner yet — a high quality, USDA certified organic, CBD-based product. Happy exercising!