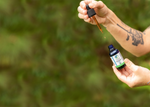 GIVE THE GIFT OF EASE AND RELIEF WITH 60% OFF RIVER ORGANICS CBD: OUR BIGGEST SALE EVER!
As of March 7, 2023, River Organics has launched 60% OFF our high quality, USDA Certified CBD products.** Shop Your Favorites for 60% Off now! 
As a woman-founded and owned company, during International Women's Month and beyond, we remain committed to your wellness journey. All customers with a subscription will automatically see the new price on their next order.
Why Now?
River Organics is launching this sale in light of the new law passed by the Virginia General Assembly, SB903/HB2294, that essentially prevents the sale of all full or broad-spectrum CBD products. It fails to recognize industrial hemp plants are grown, harvested, and processed for the production of CBD holistic wellness products.
This law punishes organic, vertically integrated farmers and processors like River Organics by eliminating the CBD market for responsible consumers over the age of 21 years old. It is unfortunate the law conflates CBD wellness products that work alongside the endocannabinoid system present in all mammals with those products manufactured for THC, Delta-8, or other intoxicants that are rarely organic.
Our Purpose is Your Health:
At River Organics, we remain dedicated to creating the purest, healthiest products at the intersection of ancient healing practices and state of the art 21st century science. CBD has been integral to wellness for thousands of years. Across time and continents, society has cultivated hemp for its holistic healing properties. 
Founder and CEO Adrianne Ryder Cook Joseph notes "CBD is your body's connection to timeless and holistic wellness. Our land, processing, and products are USDA Organic certified, and our sustainable practices ensure we are a net benefit to the economy and the environment as we are committed to preserving the delicate ecosystem of the Chesapeake Bay through our donations to 1% for the Planet and the Chesapeake Bay Foundation. We are disappointed at the passage of the bill, its impact on Virginia's farmers, our industry and our employees."
The River Organics Difference: 
Our family-owned farm in the Virginia Chesapeake Bay watershed is a purpose-driven business with a clear mission – to improve the quality of life of our customers. We farm hemp sustainably and organically with no pesticides or insecticides. The hemp is hand seeded, cultivated and harvested at optimum bloom. It's processed on site in a state of the art extraction facility meeting USDA organic extraction requirements. Our woman-owned hemp farm produces the highest quality CBD products that are USDA-certified organic and grown on land that has been part of the Conservation Reserve Program for over 20 years.
Seed to Bottle from our Family-Owned Farm in Virginia
USDA Organic & Sustainable CBD
Local Exceptional Quality & Affordability
Please do not hesitate to let us know if you have any questions or if you would like to learn more. Contact Us.
**sale does not apply to wine and gift cards