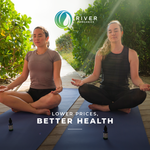 GET OUR HIGHEST QUALITY CBD PRODUCTS AT NEW LOWER PRICES
Our
family-owned farm
in the Virginia Chesapeake Bay watershed is a purpose-driven business with a clear mission – to improve the quality of life of our customers. Because of our unwavering commitment to exceptional quality, and because we listen and want our customers to continue to enjoy our products – we're honored to announce we are lowering the cost of our portfolio of award-winning CBD products in order to ensure our customers have the best opportunity to improve their wellness with River Organics.
What does this price alignment mean for you?
More opportunities for wellness at the best price possible. Beginning February 15, 2023, the cost of some of our most popular
USDA certified organic CBD products
will be reduced, ranging from 11% to over 20% depending on the product offering. The price change will improve the cost to our customers for the majority, but not all, of our products (such as our wine offerings).
This new pricing comes with an important distinction: the sizes and ingredients are identical for every product. We aren't shrinking the size, nor skimping on ingredients. The size, quality, and product specifications you have come to rely upon will remain intact. Our purpose is to help you on your road to wellness.
That begins with creating the highest quality CBD certified USDA organic products at the growing, processing, and production levels, at the best price for our community. To ensure this is possible, we control the entire process from seed to bottle. We are "vertically integrated" and we do everything by hand, from planting the seed in the cell flat to transplanting to the field and growing it until optimal bloom, to hand harvesting and hand hanging to dry and cure the flower slowly to preserve all the valuable properties of our plants.
We extract using food grade ethanol, to draw out the cannabinoids and terpenes to give you the quality CBD products, superior to that of our competitors. During this process we test at every stage, from the methods we use to grow our hemp sustainably and organically to carefully analyzing our extract (see our
Certificates of Analysis from Third Party Labs
) which confirm the absence of pesticides, herbicides or heavy metals and verify the contents of each bottle with a unique QR code for each batch.
We are honored to implement this price alignment seamlessly while continuing to provide you with the same superior hemp products. We care about our customers and want to make it easier and more affordable for you to enjoy the benefits of our offerings. Please do not hesitate to
let us know
if you have any questions or if you would like to learn more about our female-owned hemp farm that produces the highest quality CBD products that are USDA certified organic and grown on land that has been part of the Conservation Reserve Program for over 20 years.
Your partner in wellness,
River Organics