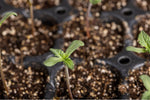 New Year, New Growth: Healthy Plants Begin with the Soil
Soil is one of the planet's most heterogenous and biodiverse ecosystems. At
River Organics
, we recognize the importance of soil every day. Join us at the very beginning of the growing season by learning about why our soil, which has been in a Conservation Reserve Program (CRP) administered by the U.S. Farm Service Agency for more than twenty years, is the best and healthiest soil.
One tablespoon of soil can have millions of microscopic bacteria, fungi, algae and animals, not to mention the plants, animals, and insects that can be seen with the naked eye. Soil microorganisms are integral in synthesizing and recycling nutrients within the soil and are essential in removing pollutants. Insects and fungus play a crucial role in decomposing matter, allowing minerals to be free for plant uptake. Soil provides 15 of the 18 essential nutrients for successful plant populations. Any disruption in the cycle of growth and decay, will affect the entire ecosystem, including humans.
A 2021 study,
Pesticides and Soil Invertebrates: A Hazard Assessment
, looked at the negative effects of pesticides on soil health. Using on average 51 pesticides, this study found that farmers are increasing the amount and type of pesticides used and that as little as 0.1% of the applied pesticide actually interacts with the target. Most of the pesticide ends up in the soil, ground water, and water system. Ultimately impacting humans.
In addition, pesticide use has been linked to respiratory diseases such as asthma and chronic obstructive pulmonary disease (COPD), many forms of cancers, neurological disorders, and birth defects. Even though this evidence has been known for years, farmers continue to use more and more pesticides in order to meet demand.
River Organics knows this. That's why we source our CBD from hemp plants grown on
our family-owned farmland in Gloucester
, Virginia on the Chesapeake Bay watershed. For over 20 years our land has been a part of the Conservation Reserve Program as part of our goal to improve environmental health and quality for all. That means that for over two decades there has been absolutely no use of pesticides, allowing the soil's flora and fauna to reach optimum levels for plant nutrition.
Soil is mission-critical and serves as a key differentiator for River Organics because hemp is a bioaccumulator – meaning that it takes up materials, good and bad, from the soil more quickly than it expels them. To receive the maximum benefit from CBD products, River Organics uses USDA Certified Organic Hemp seeds that are grown under the supervision of a horticulturalist without the addition of harmful pesticides and insecticides that can be transferred to the CBD products. Our CBD is then extracted on site through a certified organic process and monitored by an independent third party for CBD purity and the presence of pesticides or heavy metals. Every product at River Organics has the highest quality control, beginning with the way we take care of our soil.
From our hands, in our healthy soil, to your hands, always. From tinctures to bath bombs to tea and massage oils, you can rest assured that
River Organics
provides only the healthiest and highest quality CBD.