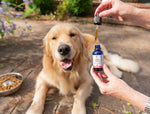 How USDA Organic CBD Can Enhance the Health and Happiness of Your Pet
If you're anything like us, your pets are considered part of your family. They bring so much joy, comfort, and unconditional love to our lives. They also have needs; they crave love, affection, attention, and relief.
Have you ever considered natural, organic options for supporting your pets with ailments, anxieties, and aging?
If so, CBD could be the perfect fit for your pet's needs. River Organics is proud to offer a range of USDA organic full-spectrum CBD products for your four-legged friends. And best of all, our pet products are currently 60% off this spring.
How Does CBD Affect Pets?
The reason CBD may be of great value to pets comes down to a major system in the body that helps it maintain a healthy state of balance: the endocannabinoid system. Similar to humans, our furry friends also have an endocannabinoid system. 
Our bodies make cannabinoids on their own, but when we ingest CBD or apply it topically, it activates receptors in the body allowing the cannabinoids to release their incredible benefits. And just like CBD has the potential to elevate health and wellness in humans, helping manage and reduce pain, inflammation, and anxiety amongst a myriad of other health issues, CBD can help our pets as well!
Determining CBD Oil Dosage for Pets' General Well-Being
If you're using CBD to help enhance your pet's general well-being, or to calm mild anxiety, start with a dose on the low side of the recommended range and watch for any effects. You should start to notice the CBD taking effect within an hour. If you don't start to see any noticeable effects, you may want to give more CBD to your pet, totaling the mid to upper dosage recommendation. Once you have given the right dose to your pet, he or she should not seem lethargic, but will instead become more relaxed and calmer with less panting, pacing, and whining.  
A low dose of CBD may be used for:
      Minor aches and pains

      Immune system support

      Daily health and wellness

      Allergies

      Minor skin conditions

      Minor stress and anxiety

      Digestive issues and nausea

      Minor arthritis and joint inflammation

      Old age
A medium dose of CBD may be used for:
      Mild skin conditions

      Heightened stress and Anxiety

      Moderate arthritis and joint inflammation
 A high dose of CBD has been recommended for:
Severe arthritis and joint inflammation

Chronic pain

Extreme nausea and vomiting

Tumors and cancer-related symptoms

Mobility Issues

Severe anxiety

Epileptic seizures
Unless your pet falls into the high dosage category, we typically recommend starting off with a low dosage for the first two weeks to gauge how your pet responds. After two weeks, we suggest gradually increasing the dosage to reach the desired effectiveness. Remember that not all animals respond to CBD in the same manner – some may require very small doses while others may need a little extra. The key is to remain consistent.
*For inflammation and pain management, administer a dose every eight hours for best results and optimal comfort.
*Administer a dose 30 minutes prior to high anxiety events such as fireworks, vet visits, car rides, leaving home, thunderstorms etc.
River Organics Pet CBD Dosing Chart
River Organics provides USDA organic full-spectrum CBD for the special four-legged friends in our customers' lives. Make sure to always consult your veterinarian before starting your pet on a CBD regimen.
Weight

Recommended Dosage (twice a day)

(lbs.)

Low

Medium

High

10

1 mg

2 mg

3 mg

20

2 mg

4 mg

6 mg

30

3 mg

6 mg

9 mg

40

4 mg

8 mg

12 mg

50

5 mg

10 mg

15 mg

60

6 mg

12 mg

18 mg

70

7 mg

14 mg

21 mg

80

8 mg

16 mg

24 mg

90

9 mg

18 mg

27 mg

100

10 mg

20 mg

30 mg

110

11 mg

22 mg

33 mg

120

12 mg

24 mg

36 mg

130

13 mg

26 mg

39 mg

140

14 mg

28 mg

42 mg

150

15 mg

30 mg

45 mg
CBD and CATS
What are the signs of anxiety in cats?
Like humans, cats can experience many bumps in the road with their mental and physical health. And yes, our feline friends often struggle with the overwhelming sensation of anxiety. Cats' anxiety can span from mild fears to full-scale phobias, so it is as important to tend to their care as diligently as you would your own. 
Most commonly, cats suffer from separation anxiety. Growing excessively attached to their owners, some cats may feel neglected and lonely if they are left for periods of time, or put under someone else's care. Their anxiety can also stem from trauma they experienced in the past, or it could be associated with underlying illnesses. As a result, cats can grow restless and exhibit aggressive tendencies.  
It is important to keep an eye out for symptoms of anxiety onset in your cat's behavior. 
Here are signs to take notice of:
    Destructing items by scratching and chewing

    Aggression, compulsive behavior, or changes in mood

    Hiding, trying to escape, or avoiding the litter box

    Lowering or heightening of activity levels 

    Excessive meowing or vocalization

    Constant grooming

    Vomiting, or unusual bathroom accidents

    Any sort of trembling or shaking

    Changes in appetite and/or weight
CBD and DOGS
The potential benefits of CBD for dogs include:
Anxiety

Pain

Inflammation

Depression

Skin conditions

Seizures

Appetite Loss

Sleeplessness
How Can CBD Help Treat Anxiety in Dogs?
An option to consider for treating your dog's anxiety is CBD, or Cannabidiol, a combination of natural compounds extracted from the hemp plant. Similar to how it works with the human body's endocannabinoid system to help reduce stress and anxiety, CBD also interacts with your pet's endocannabinoid system to help soothe their stress and anxiety too!
Figuring out how to properly dose CBD for your dog can be tricky. It is crucial that you look for a USDA certified organic CBD product, like those found here at River Organics. Because it's USDA certified organic, you know the hemp was grown without the use of harmful pesticides and was inspected by the US Department of Agriculture. A USDA certified organic product will also contain organic ingredients that are cleaner and healthier for your pet. Choose a product from a brand that can provide you with results from independent third-party testing that reveal the true CBD, or cannabinoid, content in the product and prove that it is free of any harmful chemicals.
A CBD product that is specifically designed for pets is best because the dosing is available right on the box. Try River Organics 300mg Organic Full Spectrum CBD Oil for small dogs in Bacon Flavor or 600mg Peanut Butter flavor for larger dogs. If preferred, our natural flavored tinctures for humans are also safe for dogs.
CBD can be a wonderful option to enhance the health and happiness of both you and your pet!
If you have any questions about dosing CBD for your pet, feel free to email us here. You may also shop our CBD pet products at 60% off here. And remember to always consult your veterinarian before starting your pet on a CBD regimen.