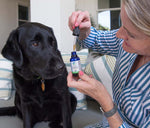 CBD Dosing for Dogs to Treat Anxiety and More | River Organics
They say dogs are man's best friend. And if you have a dog, you know this to be true. 
(I won't lie . . . Sometimes, I like dogs better than I like most people.)  In my previous career, I managed an animal hospital and had the pleasure of encountering many furry, feathered and scaly wonderful creatures over my 12 years there. In addition to helping families with their pet's vaccines and treating pet illnesses, I also got the opportunity to care for pets who stayed in our boarding facility while their families went on vacation.
Leaving their furry friends behind wasn't easy for the families or dogs alike, and I noticed often how some dogs would struggle with separation anxiety when they were away from their families.  Anxiety, in general, can be a difficult and stressful behavior for a pet's family to deal with, and it typically is not an issue that can be fixed quickly. Dogs can also become distressed due to environmental factors such as loud storms or fireworks being set off in the neighborhood, or they may not handle being around other pets well, and social situations involving other dogs may create stress for them.
Many times, dogs can struggle with anxiety due to events that happened in their past. While "rescuing" a pet is often seen by pet lovers as a more favorable option over buying a puppy from a breeder, new pet owners must remember that when you adopt a pet from a shelter, you typically don't know the pet's past, or events that may have occurred that could have contributed to him or her developing stress and anxiety.
Here at River Organics, we are just as passionate about promoting the health and wellness of our beloved animal friends as we are for the people in our community, our customers and the planet as a whole.  And you should know by now how we are proud advocates of the amazing supplement that is CBD.  In previous articles, we explored everything you need to know about CBD oil for pets and gave you a closer look at figuring out dosing of CBD oil for pets.  Today, we wanted to address a huge topic of concern for many pet parents  — dog anxiety — and discover how CBD can be a great solution for helping you better cope with your dog's anxiety, as well as learn how to properly dose CBD oil to treat anxiety in dogs.
According to PetCareRx, there are 4 main causes of canine anxiety:
1) Traumatic Past Experiences:
If you don't know your pet's history, it is possible that they underwent some sort of traumatic experience before coming into your care, and may have been abandoned or abused in the past.   Dogs are most likely to develop anxiety during the first 3 years of their lives, so if they were mistreated as puppies, anxiety often develops as a result. 
2. Tendency of the Breed:
Some dog breeds are more likely to present with anxious behavior and tendencies over others.  PetCareRX states that "high energy, intelligent dogs have a greater propensity to anxiety."  If you have a German Shepherd, Dalmatian, Great Pyrenees, Standard Poodle or Cocker Spaniel as well as certain types of Terrier breeds, your dog may be more likely to develop anxiety.
 3. Medical Issue:
Some medical issues can cause anxiety in dogs, and aging can alter your pets' tolerance levels making them more prone to reacting to distressing situations with anxiety or worsening anxiety, already present. If you notice any changes in your dog's behavior or see signs of anxiety, you should consult with your veterinarian for a proper assessment.
4. Lack of Puppy Socialization:
It is vital that puppies get out and around people and other dogs early on, to make them more comfortable in social situations and decrease the likelihood of them becoming distressed or anxious in social situations later on.
5. How Can CBD Help Treat Anxiety in Dogs?
Options for treating anxiety in dogs and other pets usually involve different types of medications. Unfortunately, many medications can have unfavorable side effects, and blood tests are often required to make sure that the medications are not harming your pet. 
Another option to consider for treating your dog's anxiety is CBD, or Cannabidiol, a combination of natural compounds extracted from the hemp plant.  Similar to how it works with the human body's endocannabinoid system to help reduce stress and anxiety, CBD also interacts with your pet's endocannabinoid system to help soothe their stress and anxiety too!
Figuring out how to properly dose CBD for your dog can be tricky.  As CBD is not currently regulated by the FDA or any other government agency, beware that there are a lot of sketchy products out there, so it is crucial that you look for a USDA certified organic CBD product, like those found here at River Organics.  Because it's USDA certified organic, you know the hemp was grown without the use of harmful pesticides and was inspected by the US Department of Agriculture.  A USDA certified organic product will also contain organic ingredients that are cleaner and healthier for your pet.  Choose a product from a brand that can provide you with results from independent third-party testing that reveal the true CBD, or cannabinoid, content in the product and prove that it is free of any harmful chemicals.
How Much CBD Should You Give Your Dog to Treat their Anxiety and Other Ailments?
This is where the information can get a bit complicated.  According to the book CBD: A Patient's Guide to Medicinal Cannabis by Leonard Leinow & Juliana Birnbaum, your pet's dose for CBD should be 0.1-0.5 mg/kg/day.  (I'm not sure about you, but anytime I see weights in kilograms, I start sweating because I have no idea how much that is.)
Fortunately, we have come up with a chart to make your life easier.  We used the formula we suggested in this blog in the table below, which is very similar to the one above, but because it's in pounds instead of kilograms, this is the formula we use:  .2 mg of CBD per pound of body weight.  This will give you a medium dose, which you should adjust, based on your dog's ailment and how much he or she weighs.  Again, we discussed these factors in our How Do You Determine the Proper Dosage of CBD for Your Pets blog.
River Organics Dosing Chart
Weight

Recommended Dosage (twice a day)

(lbs)

Low

Medium

High

10

1 mg

2 mg

3 mg

20

2 mg

4 mg

6 mg

30

3 mg

6 mg

9 mg

40

4 mg

8 mg

12 mg

50

5 mg

10 mg

15 mg

60

6 mg

12 mg

18 mg

70

7 mg

14 mg

21 mg

80

8 mg

16 mg

24 mg

90

9 mg

18 mg

27 mg

100

10 mg

20 mg

30 mg

110

11 mg

22 mg

33 mg

120

12 mg

24 mg

36 mg

130

13 mg

26 mg

39 mg

140

14 mg

28 mg

42 mg

150

15 mg

30 mg

45 mg
Always start with the lowest dose needed for your pet.  If your dog is in between two weights, we recommend starting on the lower end.  Remember, every body (including pets' bodies) are different, and some pets will respond well to only a small amount while others may require a larger dose.  With CBD, more is not always better, and you likely will not notice any enhanced effect with a higher dose. 
A CBD product that is specifically designed for pets is best because the dosing is available right on the box.  Try River Organics 300mg Organic Full Spectrum CBD Oil for small dogs in Bacon Flavor or 600mg Peanut Butter flavor for larger dogs.  If preferred, our Natural flavored tinctures for humans are also safe for dogs.
CBD can be a wonderful option to enhance the health and happiness of both you and your pet!
If you have any questions about dosing CBD for your pet, feel free to email us here. And remember, to always consult your veterinarian before starting your pet on a CBD regimen.