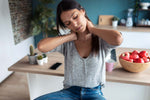 5 Ways to Relieve Post Workout Muscle Soreness | River Organics
That post-workout soreness you feel means you've done your body some good, and now your muscles need a little TLC.
At River Organics, we explore the ways in which  CBD nurtures our bodies after workouts and movement. CBD helps tend to the muscles that need recovery as our bodies recuperate, rejuvenate, and replenish for the next move.
You may be wondering how and why we nourish our sore muscles after working hard. Let's explore different ways to relieve pain and how CBD massage and topical oils may be your best sidekick when it comes to alleviating post workout soreness. 
​​
CBD helps enhance health and wellness
Before we dive into how CBD can benefit post-workout soreness, let's discuss how CBD offers an amazing array of benefits to elevate our overall health and well-being. Due to its ability to augment our body's own endocannabinoid system, CBD helps bring us to a state of equilibrium to support more optimal health and wellness. Studies show CBD is indicated to help with a plethora of ailments and health issues, including helping to reduce pain and inflammation, alleviate tension and anxiety and promote clarity of mind.
So, it's no wonder that CBD could also be an incredible tool to support muscle recovery after working out and help relieve painful and tense tissues. 
Stretching
Stretching our muscles both before and after a workout is key to avoiding pain and injury. Stretching allows our muscles to ease tension, gain flexibility, and uphold joint movement— directly relieving the pain you may feel in your lower back, your hips, your neck, or anywhere.
Apply our CBD-infused massage oils to any spots that feel tight will target specific pain to help relieve muscle inflammation. Our massage topicals contain carrier oils that help CBD better penetrate the skin. For on-the-go gym sessions or daily bouts of muscle soreness, try our Full Spectrum Organic Pain Relief Stick before stretching. With its easy application and convenient size, you can effortlessly implement CBD into your stretching routine anytime to achieve optimal relief from soreness. 
Massage
A massage is synonymous with relief. Massage helps induce a natural pain-relieving chemical in the body known as oxytocin. Massage increases blood flow and helps relieve joints or muscles that feel sore.  A post-workout massage can help pinpoint specific areas and allow your muscles to recover more quickly.
You can apply our Extra Strength Pain Relief Oil to your spots of soreness, and the CBD will activate receptors in your skin and surrounding tissues to help ease the pain. Our oil is infused with essential oils, to enable the CBD to further permeate the skin to reach the deeper muscle layers with the addition of arnica for even more potent pain relief. When your massage therapist incorporates our CBD oil with the kneading of your aching muscle, our soothing oil will have your sore muscles ready for action again in no time.
Light Movement
And that is an emphasis on light movement. You may be wondering why we're suggesting more movement after your exercise-induced muscle soreness. Think about that one time you sat in the car for hours during a road trip and how your bottom felt sore the second you stood up. Or, you may recall that one time you sat in your cozy position on the couch for too long and your leg went stiff. In these situations, we tend to move our bodies, shake out our parts, or take a little walk to ease that tense and uncomfortable feeling, and there's a reason. Gentle movement improves our circulation and increases our blood flow. Specifically, when our muscles grow sore, light movement helps our blood circulate through the bodies and reach the spots we need. The quicker our blood gets moving, the faster its abundant nutrients and oxygen will restore our muscles. A brisk walk, cycle session, or yoga routine after your workout will set your muscles up for success. 
Try rubbing our CBD massage oils on those exact sore spots before engaging in light movement for ample inflammation relief.   
Types of light movement exercises to try out:
 

Walking

 

Moderate hike

 

Easy cycling

 

Yoga

 

Swimming laps

 

Resistance band exercises
Foam Rolling
A foam roller is exactly what it sounds like: a large cylinder of solid foam used to roll targeted parts of the body. This muscle pain relief tool is a staple in most gyms, and in most homes of people that work out. Foam rolling helps lessen the risk of edema (fluid build-up leading to muscle swelling), and help repair damaged tissues.
Before foam rolling, you may want to rub our Extra Strength Pain Relief Oil or pain relief stick on the spots you're targeting. This will help soothe your muscles to bolster the foam roller's consoling effects on your pesky muscle pain. The soothing oil and sturdy foam will work together to reach deep layers of your skin to alleviate pain.
Apply Heat
Enhancing circulation in the body is one of the best ways to relieve soreness and tension in the muscles. An increase in temperature supports healthy blood flow, allowing for a free range of movement and for our muscles to be rejuvenated and revitalized. One of the reasons for feeling pain in sore muscles after intense movement is that they are not receiving enough blood flow, and your muscle fibers have become tense. 
Applying dry or wet heat to your body after a workout can help directly soothe strained and stiff tissues while increasing flexibility - just be sure to err on the side of caution when considering temperatures. To augment your results, add our massage oils topically or onto your compress or heating pad. The potent essential-oil infused formula combined with the heat will help reach deeper muscle tissue to soothe soreness and further ease pain. 
Types of dry heat:
 

Heating pad

 

Heat pack

 

Hot water bottle

 

Heat wrap

 

Sauna

 
Types of wet heat:
 

Hot bath

 

Hot tub

 

Warm compress

 

Steamed towel

 

Steam room
When working on your fitness, experiencing post-workout soreness is almost inevitable. When exploring the best ways to relieve soreness, consider incorporating our full spectrum, USDA certified organic topicals and massage oils into your regimen and you may discover how CBD is your new best friend in your fitness game.  
We encourage you to consciously tend to your body. It's crucial to nurture sore muscle tissues in ways that help increase blood flow, flexibility and support joint movement. 
This way, your muscles will feel renewed and ready to thrive for the next challenge you throw their way.