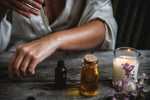 Benefits of Using CBD for Arthritis | River Organics
Arthritis is a prevalent and painful condition that afflicts over 58 million people in the U.S and 350 million globally. Although it is a more common issue amongst people in their 50s or 60s and older, it can affect anyone, at any age. 
If you struggle with pain from arthritis, you may be wondering if CBD could help. You've probably already guessed that, here at River Organics, we are adamant about the incredible potential CBD has to help alleviate a host of health issues, as well as enhance overall health and wellness. 
In today's article we will be taking a closer look at CBD as a possible treatment to alleviate the painful symptoms of arthritis.

What Is Arthritis?
Arthritis is characterized by pain and inflammation in the joints, accompanied by a feeling of stiffness and tenderness in the connecting muscles, with a lack of stability.
When left untreated, pain and discomfort from arthritis can greatly impact your life, causing difficulty moving about during the day, restlessness and pain in the joints at night, sleep deficiencies, discomfort doing seemingly routine tasks, and at times even losing the ability to participate in your favorite activities. Unfortunately,  there are no known cures for arthritis, but learning to manage its discomfort is key for those suffering from the condition. 
CBD As A Potential Treatment For Arthritis 
If you suffer from arthritis, you are probably quite familiar with how debilitating that pain can be.  As such, you may be looking for natural alternatives to pain management outside of pain relievers available over the counter. You may have also considered CBD as a potential solution for the condition. 
In recent years, many studies have indicated that CBD offers a host of incredible benefits to enhance health and wellness, as well as aid in chronic pain management, the reduction of inflammation, and in helping to alleviate many other health issues. With its ability to interact with our own body's endocannabinoid system to promote a state of balance, as well as block receptors that influence pain and inflammation, CBD has been shown to successfully help alleviate pain.
Additionally, various studies have found that CBD may be a helpful treatment in relieving the pain and discomfort associated with arthritis. For example, a study from 2017 revealed that CBD could be beneficial in treating joint pain associated with osteoarthritis, while results from a 2016 study indicated that topical CBD could help soothe pain and inflammation caused by arthritis.  In a study conducted back in 2011, it was shown that a CBD gel helped reduce pain and lower inflammatory biomarkers, also helping to decrease swelling in the joints of rats. 
While the research does show promise in CBD being a potential treatment for arthritis, additional studies need to be conducted to form more conclusive evidence. 
How Can You Take CBD To Relieve Discomfort From Arthritis?
One of the best things about CBD is the fact that it is available in a variety of forms to suit your needs. CBD taken sublingually (under-the-tongue) in the form of a tincture is fast-acting and is known for producing more potent results than in other forms. A CBD tincture can be taken as a daily holistic supplement to support your regular health and wellness routine, while helping to reduce pain and inflammation in your body. 
CBD topical creams and massage oils can be applied directly to sore and painful muscles and joints to deliver the potent CBD compounds below the surface of the skin and alleviate pain as needed.  Try our Full Spectrum CBD Pain Relief Stick for convenient, on-the-go pain relief from flare-ups. For enhanced pain relief, our Extra Strength Pain Relief Oil with the addition of Arnica for added herbal and pain management benefits, can be a potent solution. 
Remember, not all CBD on the market is created equal. At River Organics, it is our mission to produce the highest quality CBD products with everyone's safety and well being in mind. All of our CBD products are USDA certified, made with hemp grown organically, sustainably, responsibly, and ethically at our family-owned farm in the Chesapeake Bay watershed. And you can rest assured that all our CBD products contain under the legally required 0.3% of THC so you can enjoy their therapeutic benefits without any intoxicating effects.  
As with any ailment, it is best to consult with your doctor to determine the right dosage of CBD to meet your needs and to determine if it could be the right option for you.