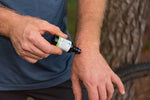 What is CBD Topical Oil? | River Organics
If you've been following us, you know that here at River Organics, we get excited about everything having to do with CBD. Why? Because it's truly an amazing holistic supplement that can offer incredible health and wellness benefits. In our last blog, we explored how CBD can be a powerful tool to enhance the positive effects of massage therapy.  We looked at the ways in which it can be used, and touched upon our original massage oil, while introducing you to our newest addition, our Extra Strength Pain Relief Oil with Arnica.
Today, we wanted you to get a closer look at our new product, and see exactly why we like to call it (if we must say so ourselves) Magic Oil!
But first, let's look into how a CBD topical offers fantastic health and pain relief benefits.
What Are Some of the Benefits of CBD Topical Oil? 
CBD is available to be taken in many forms: orally through tinctures and digestibles, through smoking or vaping, it can even be used as a cooking ingredient to enhance your meals, and it can of course be applied topically through the use of massage oils and creams. Research (and customers' experiences!) seem to indicate that when applied topically, CBD can provide a plethora of amazing health and pain management benefits. Whether used in conjunction with the already positive effects of massage therapy, or on its own for more targeted relief, topical CBD oil can significantly impact your health and wellbeing.
Topical CBD oil can help promote improved health and wellness in so many ways. including: 
Creating a more calm and relaxed state as it interacts with the body's cannabinoid system to promote a state of balance within the body

Soothing and alleviating inflammation, helping to heal muscle tension and joint pain.

Helping to reduce and ease stress, tension and anxiety
Choosing The Best CBD Oil For You
When rubbed into the skin, topical CBD oil absorbs into the skin where it will interact with the body's cannabinoid receptors to begin working its magic.  Keep in mind that not all CBD products out there offer the same efficacy or strength, and many can't be effectively absorbed by the body to even be able to deliver their positive effects. 
As CBD naturally has a lower rate of permeability, iit is important that the CBD topical oil is made with a potent carrier oil to help ensure proper absorption of the CBD into your skin. When it comes to CBD oil quality and absorption rate, you'll also want to keep an eye on the company's certification and manufacturing process. 
At River Organics, we use a combination of high-quality plant-based oils including coconut, hemp seed and jojoba, for high absorption, and peppermint and tea tree essential oils for extra benefits and a soothing and pleasant aroma. Plus, the carrier oils we use in our products offer incredible health, wellness and beauty benefits on their own, adding a whole new horizon of holistic properties to enjoy!
Let's take a closer look at the amazing ingredients in our topical massage oils.
Organic Fractionated Coconut Oil 
Coconut oil works wonders when it comes to skin hydration and healing. It offers some much-needed moisture and relief when dealing with conditions like eczema or dermatitis, helping restore the skin's barrier and offering protection from further damage. Thanks to its medium-chain fatty acids, it has wonderful antimicrobial and bacteria-fighting abilities, promoting wound healing and helping fight acne. It is undoubtedly a key ingredient we couldn't leave out.
Organic Hemp Seed Oil
Our organic hemp seed oil is extracted straight from the hemp seeds through a process of cold pressing, very similar to the way in which olives are pressed to make olive oil, allowing for maximum retention of benefits. We've chosen to add it to our topical mixture mainly because of how quickly it is absorbed by the body, without leaving behind any greasy or sticky residue, while also helping to regulate the skin's oil production. Skin blemishes and acne can be an unfortunate and unwelcome result from excessive oil production in our skin. Hemp seed oil can therefore be an effective remedy against acne in helping to reduce and regulate the skin's oil production and promote healthier and clearer skin.
Organic Jojoba Oil
We love organic jojoba oil for many reasons. However, our favorite reason has to do with how this wonderful plant oil is able to mimic the sebum created by our own skin — something not many other skincare products, if any, are able to achieve. When applied to the skin, jojoba oil adheres to the skin forming a barrier, protecting the skin and promoting your skin's moisture-retention. Jojoba oil is also packed full of skin protecting and healing antioxidants, which can be very beneficial in combating the signs of aging as well as helping to soothe various skin irritating conditions. With jojoba oil's uniquely powerful hydrating properties and ability to reduce the appearance and signs of aging, we didn't have to think about it twice when it came to adding to our mix.
Organic Full-Spectrum Hemp Extract
Of course, here at River Organics, we are proud advocates of CBD, and all of its amazing health and wellness benefits. This is where we believe our product stands out.  Our organics, full-spectrum CBD topical oils utilize the whole hemp plant extract, which is believed to be more effective in offering more potent benefits, than the individual components of the plant will do on their own, due to what is known as the entourage effect.  
Organic Peppermint Essential Oil
As part of nature's many analgesic and pain-relieving remedies and oils, organic peppermint essential oil is certainly up there in its power and potency. This small and greenish herb not only has a soothing and fresh aroma to it but is also considered one of nature's strongest and most powerful analgesics. This can be attributed to its high menthol concentration, the main chemical component found in peppermint leaves. 
Apart from its pain-relieving properties, this special and impressive herb has also been used for centuries in the treatment of health issues and conditions including, but not limited to:
Irritable bowel syndrome

Common cold

Headaches

Muscle pain 

Swelling

Wound healing

Chest congestion
Studies demonstrate peppermint oil is helpful when it comes to inflammation, and incredibly helpful when it comes to opening up the airways. If you ever feel under the weather or have come down to a cold, having some peppermint oil at hand can come in very handy. 
We love adding organic peppermint oil to our mixture for reasons far greater than its sweet aroma and hydrating benefits. As you can see, it is a key ingredient in enhancing health and overall well being . 
Organic Essential Tea Tree Oil
Our CBD topical oils would not be complete without the addition of wondrous tea tree oil, which boasts potent antibacterial and antimicrobial fighting abilities, meaning it can be particularly effective in helping with wound healing and cleansing of the skin. Its uniquely outstanding antibacterial properties make tea tree oil great in the treatment of funguses, many times working even better than products found over the counter. 
Although you'd think due to its heavy duty disinfecting and microbial fighting abilities, tea tree oil may feel rougher on the skin but it is in fact extremely soothing to the skin and can even help relieve itchy or scaly skin. And, once again with such effective antibacterial and antimicrobial properties, tea tree oil is of course remarkably useful in the treatment of acne and those stubborn pimples we get out of nowhere at the worst possible moments.  
Meet Our Newest Product: Extra Strength Pain Relief Oil + Arnica
Offering the same plant-powered holistic features of our original topical massage oil, River Organics' new Extra Strength Pain Relief Oil takes wellness to new heights with five times more full-spectrum CBD and the addition of a special ingredient: Arnica.  Arnica helps to relieve stress, tension and anxiety and has been shown to be incredible at relieving pain and quelling inflammation. We also added five times more of our amazing CBD extract to our Extra Strength Pain Relief Oil + Arnica, making this one of the most potent topical CBD products on the market today.
Below is a rundown of the differences between our original massage oil and our new Pain Relief Oil:
River Organics CBD Massage Oil

CBD Type

USDA Organic full-spectrum (less than 0.3 percent THC)

CBD Potency

600 mg per 2 oz bottle (spray)

1,200 mg per 4 oz bottle (spray)

Third-party lab test results (COA)

Available here 

River Organics Extra Strength Pain Relief Oil + Arnica

CBD Type

USDA Organic full-spectrum (less than 0.3 percent THC)

CBD Potency

1500 mg per 1 oz bottle (rollerball dispenser) 3000 mg per 2 oz bottle (spray)

Third-party lab test results (COA)

Available upon request
More On Our Unique Blend of Ingredients and Benefits  
We decided to incorporate the arnica flower into our original formula due to its amazing ability to treat bruises, sprains, arthritic pain, muscle aches, and so much more. The combination of CBD, potent carrier oils and Arnica can help effectively tackle a variety of health problems, adding a new dimension of healing and wellness benefits to our topical CBD oil. It is known to promote a soothing response in the body, minimize swelling, reduce pain, help with muscle tension, arthritis, and so much more!
Due to its high levels of anti-inflammatory plant-based compounds, flavonoids, sesquiterpene lactones, and phenolic acids, arnica is able to promote a strong anti-inflammatory and swelling-reducing response, offering incredible pain management and inflammation reducing properties. In a review study conducted in 2014, it was found that applying topical arnica gel was shown to be possibly as effective as topical Ibuprofen, a common pain reliever in helping to relieve pain. It is also indicated to offer pain management benefits to help with chronic pain conditions such as osteoarthritis, improving overall physical health and wellness.
River Organics NEW Extra Pain Relief Oil + Arnica comes in a convenient 1 oz rollerball bottle, for ease of use and to effortlessly glide on the skin. Just like our original topical CBD oil, this new oil with Arnica also offers a full-spectrum formula that leverages all of the cannabis plant compounds for a potent effect. 
At River Organics, it is our passion to promote the overall health and wellness of our customers, our community, and the whole planet. We are committed to producing high-quality and organic CBD products that are sustainably, responsibly, and ethically produced and grown at our family-owned farm in Chesapeake Bay watershed. All of our products are now available in a variety of forms, including different potency levels, flavors, massage oils, teas, bath bombs, pet tinctures, and lip balms. We're currently having a limited-time 25% sale on our new Extra Strength Pain Relief Oil with Arnica.  As always, we offer free shipping on all orders over $100. 
Ingredient

Benefits

Organic Fractionated Coconut Oil

Moisturizes

Reduces inflammation

Promotes wound healing

Treats acne and protects the skin from harmful bacteria

Treats eczema and dermatitis

Antibacterial, antifungal, antiviral

Organic Hemp Seed Oil

Moisturizes without clogging pores

Regulates the skin's oil production / Balances oily skin

Treats atopic dermatitis

Anti-aging properties

Reduces fine lines and wrinkles

Organic Jojoba Oil

Mimics your skin's own sebum

Moisturizing and Nourishing

Minimizes the signs of aging

Helps to plump skin

Soothing

Non-comedogenic

Balances the skin's oil production

Unclogs and  minimizes pores

Organic Peppermint Essential Oil

Naturally cleansing / supports wound healing

Antiseptic and Antibacterial properties

Soothes irritation and inflammation

Relieves itching

Effective at relieving muscle pain and headaches

Helps to clear sinus passages and chest congestion

Relieves digestive issues

Helps to reduce swelling

Organic Tea Tree Essential Oil

Strong anti-microbial and anti-bacterial qualities

Anti-inflammatory

Soothes and relives painful and irritated skin

Reduces redness and swelling

Soothes eczema

Reduces itching

Arnica

Incredible pain management and inflammation reducing properties

Effective at reducing swelling 

Pain management benefits help with chronic pain conditions 

Reduces pain from arthritis

Reduces muscle tension

Supports healing and reduces pain from sprains, strains and injuries

Supports overall health and wellness