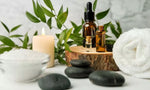 Which Oils Can Be Used For Massage?
Life can get pretty stressful at times, and sometimes we just need to find a sense of relief. Whether you're feeling pressures from work, soreness after an intense workout, overwhelming feelings of anxiety, or just general discomfort, a massage may be the ideal solution for some much-needed TLC. 
When pampering yourself with your next massage, it is helpful to know that you can enhance an already wonderfully soothing experience to new levels of relief, and benefits galore, with the use of a quality massage oil. 
Today we'll take a look at the amazing advantages oils bring to your massage, and then we'll offer insight into how to choose the right massage oils for you.  
What are the Benefits of Massage? 
 A good massage can make all the difference in transforming your physical and mental state. Offering a plethora of benefits to enhance your health and wellness, a massage can help reduce stress, pain and soreness, lower heart rate and blood pressure, all while enhancing relaxation, increasing energy, and even improving circulation and boosting your immune system. Massage can also help to relieve anxiety, calm digestive issues, soothe headaches and reduce insomnia. 
So, simply put, don't ever feel guilty about treating yourself to a massage. It's incredibly good for you, and you deserve to feel your best!
How is a Massage Performed?  
A massage is performed by the rubbing, kneading or pressing of hands or tools into the skin, muscles, and ligaments.  It can be administered lightly with delicate strokes, or can involve stronger contact and more intense pressure. Therefore, there is a perfect massage out there for everyone, and to target any sore spot.
How Can the Use of Oils Enhance a Massage? 
As an act that involves a certain degree of friction, massages become easier with the help of oils, allowing the hands and fingers to slide effortlessly along the body. Various ingredients in oils bring their own rejuvenating benefits to treat and hydrate the skin, while promoting deeper relaxation and enhancing the overall effects of a massage. Oil is essentially a massage's best friend, and each offers its own unique benefits to elevate the massage experience. 
With so many different oils available, it is useful to know which one[s] will best suit your skin and the needs of your particular ailment or concern. Oils can be used on their own, or in conjunction with one another. 
Let's explore this further. 
The Types of Oils You Use For Massage 
Coconut oil is rich in Vitamin E and has a light, non-greasy feel that promotes moisturization and hydration, while helping to soothe symptoms of psoriasis and reduce signs of aging. This oil tends to cool down the area on which it is applied.  Its medium chain triglycerides help it maintain stability to offer long-lasting effects on the skin. Because of this, coconut oil is perfect for muscle and deep-tissue massages.
This oil is your skin's biggest fan. The presence of several vitamins in avocado oil makes it a top contender for helping with many skin-related ailments. Abundant in vitamins A, D, and potassium, avocado oil helps to alleviate eczema and dry patches, and its antibacterial factors help protect the skin from infection. Vitamin A, along with B1 and B2, work to improve collagen metabolism which helps to regenerate skin cells and improve elasticity. Therefore, avocado oil is not only able to reduce skin irritation but it can also diminish signs of aging to restore radiance to the skin. 
It is best to mix avocado oil with another carrier oil, as this thins out its thick, dense formula, making application easier. 
This holistic, healing oil is great for ayurvedic body massages, and has been used since ancient times as an anti-inflammatory and anti-bacterial remedy. As a detoxifying agent for the body, sesame oil helps to eliminate toxins from organs. It also helps to relieve symptoms of poor circulation, constipation, anxiety, stress, dryness, and bloating. And as if that's not enough, sesame oil offers incredible benefits for the skin, helping to reverse the effects of sun damage, protect against UV rays, heal sunburns, and even improve hyperpigmentation, fine lines, and wrinkles. 
As a thicker oil that warms and nourishes the skin, sesame oil provides soothing comfort to sore joints and muscles. Because of its density, it should be mixed with lighter oils, like coconut or almond. 
Abundant in vitamins A and E, this light oil is wonderful for all skin types. As a rich moisturizer that absorbs quickly, jojoba oil will leave skin smooth and non-greasy. Also high in iodine, jojoba oil contains microbial features that ward off the growth of bacteria.  This wonderful plant oil mimics the sebum of our own skin.  When applied, jojoba oil adheres to the skin forming a barrier, protecting the skin and promoting your skin's own moisture-retention.
Taking olive oil out of your kitchen and bringing it into your massage routine is a great way to enjoy a brilliant, natural source of moisture to restore the glow to your skin. Olive oil is a heavier oil rich with vitamin E, omega-9 and omega-6 fatty acids. Especially beneficial for muscle aches and pains, it contains anti-inflammatory properties that can help alleviate soreness. Olive oil's greasy texture allows for easy, repetitive movements during a massage, which is perfect for targeting muscles and joints with the right amount of pressure.
This light, non-greasy oil is highly abundant in vitamins A and E, working well to calm sensitive, inflamed, or dry skin. It contains age-fighting properties, helping to tighten skin, and reduce the appearance of fine lines and stretch marks. Apricot oil is also suitable for use on the face, absorbing fast.  Finally, it's warm and luscious fragrance means that it's a perfect oil to use for aromatherapy — making it a popular choice amongst massage therapists. 
Almond oil is wonderful for both moisturizing and healing the skin, as well as helping with inflammation and promoting relaxation. It's rich in vitamin E, fatty acids, potassium, and zinc, creating a soothing and replenishing effect on the skin. A high amount of vitamin E present helps it reduce the appearance of existing scars and blemishes, while adding a radiant glow to the skin. Linoleic and oleic acids make almond oil a great choice for easing muscle or joint pain, and its sweet fragrance provides comforting aromatherapy. 
How Do You Use Oils for Massage? 
You may be wondering how to use oils effectively to elevate the effects of a massage. There is no one right way.  In fact, massage oils can be used in several ways with various tools. They can penetrate deeply into the skin, yet any left over serves as a great lubricant to help perform a well-executed massage.  
When using your hands to massage, the use of oil creates a smooth and slippery surface for more effortless kneading and movement over the skin. Oil is used to prevent hands from sticking too much in certain spots, and to prevent the skin from drying out.  Low-friction techniques, like Swedish massage, typically need a heavier oil that doesn't absorb into the skin as quickly.  Lighter oils work well for massages that involve a higher level of friction, such as deep tissue or sports massages. They give enough lubrication to prevent irritation, and absorb quicker to prevent any slipping when targeting a spot with pressure.  
Using tools to perform a massage is another common approach, and also offers an effective way to target muscles, joints, and ligaments. And once again, adding oils to lubricate the tool's movements is key to a well-executed massage. Massage oils contribute to the gliding effect of the motions, while remaining thin enough to easily monitor the temperature of the tool to maintain a comfortable degree of warmth. 
When using hot or cold stones for example, the heating or cooling feel will be enhanced as the oil provides a thin barrier against the skin. These tools are wonderful for releasing tension deep in the tissue, and for stimulating the circulatory system, improving blood flow. Bamboo rods also offer a heating effect on the body and their rough texture allows for more friction against the skin and an even deeper massage. 
Enhance Your Massage with CBD
A full spectrum CBD Massage Oil has the potential to elevate the incredible benefits of massage to new heights of relaxation and wellness. When CBD-infused massage oil absorbs into the skin, it interacts with receptors in the body's own endocannabinoid system to encourage a state of balance and a deeper healing effect.  Acting as a natural source of moisture for the skin, CBD-infused massage oil offers its own skin benefits, helping to retain moisture and provide hydration, making it a wonderful ailment for eczema or dry patches, or any inflammation on the surface of skin. 
When combined with carrier or essential oils that are able to permeate the skin layers and into the tissues below, the CBD is able to penetrate into deeper muscle layers, optimizing its benefit to the body.
CBD Massage has been reported to have the following benefits*:
Reduces post-workout soreness and muscle fatigue

Helps to decrease back, shoulder and neck pain

Assists with arthritis pain and joint inflammation

Reduces inflammation due to strain or injury

Helps with sore feet, plantar fasciitis, or bunions

Decreases discomfort associated with peripheral neuropathy 

Helps reduce pain from fibromyalgia

Addresses skin conditions such as psoriasis, eczema, acne, mosquito bites
When treating tough pain spots, our Extra Strength Pain Relief Oil with Arnica is perfect to help soothe more intense soreness. Infused with Arnica, this CBD massage oil offers anti-inflammatory properties to alleviate more potent levels of pain— making it perfect for helping overworked muscles and muscle knots. 
From reduced muscle tension to soothed anxiety and improved muscle tone, massage therapy is a crucial step to your holistic wellness. We encourage you to give yourself the space to dedicate time to your personal wellness and self-care needs. 
The team at River Organics is here to support you every step of the way on your wellness journey! 
* These statements are not intended to diagnose or treat any disease and have not been verified by the FDA. Many preliminary CBD studies and user testimonials support the efficacy of CBD, but in-depth scientific research is still needed.