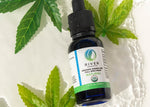 Celebrating National CBD Day on August 8 | River Organics
Years ago having a day dedicated to celebrating CBD might have felt like a pipe dream. Thankfully, with the growing popularity of the medicinal substance and its increasing immersion into the mainstream, it no longer feels as surprising. CBD has been steadily gaining traction with the general public, media and medical industry in recent years. Yes, now CBD even has its own holiday, and is nationally recognized on National CBD Day! 
Amongst CBD proponents and advocates, National CBD Day signifies a leap forward in this powerful, natural supplement gaining more widespread acceptance and awareness. We wanted to take the opportunity in today's post to discuss the importance of National CBD Day, its impact on public interest for the holistic substance, and how we at River Organics are celebrating this exciting day!
What is National CBD Day? 
National CBD Day is a day dedicated to celebrating cannabidiol, a cannabinoid, and the potential, incredible holistic and medicinal benefits it offers its users. National CBD Day is still in its nascency, only celebrating its 4th annual holiday this August 8th, 2021 since its founding back in 2018 when the National Day Calendar officially marked August 8th as National CBD Day. You may be familiar with other days designated for cannabis including 2/4 (National Hemp Day) and of course, 4/20 which celebrates marijuana, a day that has been highly popular since its conception as a holiday.
On the 8th of August each year, National CBD Day is intended to be a day to recognize a cannabinoid that has been seemingly enhancing the health and wellness of so many. On this day, CBD enthusiasts and advocates have the chance to educate others about the medicinal substance and spread awareness so others can learn of its amazing, potentially life-changing benefits. 
Hemp-derived CBD (cannabidiol) has experienced a huge surge of interest in the health and wellness world over the past few years. The holistic supplement has even been catching the the attention of numerous high-profile celebrities like Seth Rogen, Whoopi Goldberg, Joe Rogan and Kim Kardashian West who have all been praising the benefits of the hemp-derived oil.
Why is CBD Day Important for the Advancement of CBD? 
National CBD Day is not only a day intended to celebrate CBD and the profound impact it can have to help enhance people's health and wellness; it's significant in helping to advance the natural supplement's public awareness and acceptance. On this day, advocates of CBD, such as manufacturers and retailers have the opportunity to educate consumers and the general public on CBD, to clarify any confusion surrounding it, help to destigmatize CBD in regards to its association with cannabis and refute common misconceptions. 
The Growing Popularity of CBD
Yes, CBD still has a ways to go in becoming more widely accepted throughout the public and mainstream. However, National CBD Day is proof that CBD is making progress towards broader recognition, support and fuller legality on a federal level. With a wide variety of CBD products now easily accessible in marketplaces online and amongst retailers in brick and mortar stores throughout the country, CBD is continuing to gain popularity as a leading choice for holistic alternatives to aid in the enhancement of health and wellness as well as potentially help with pain relief, anxiety, depression, heart, muscle health and much more.
How is River Organics Celebrating National CBD Day? 
We at River Organics are proud to be advocates of CBD and enjoy using our platform to educate our customers on everything CBD-related, from offering insight into our USDA certified organic production and processes to providing valuable information to answer questions about the powerful, holistic substance. 
We are excited about the future of CBD and on National CBD Day, we are celebrating this momentous occasion by letting you try our products for FREE! We want you to experience the amazing holistic benefits of our full-spectrum, USDA certified organic CBD products for yourself.
River Organics CBD products are now available in a variety of forms, including tinctures in 4 different potencies and 5 different flavors, topical massage oils, and pet tinctures.  We'll soon be introducing a bath bomb, lip balm, tranquility tea and pain relief stick soon, making this holistic alternative even more widely accessible for all. We are passionate about offering only the highest quality products to promote the health and wellness of you, our customers, and the planet as a whole. 
Discover the incredible natural supplement and celebrate  #NationalCBDDay with River Organics!