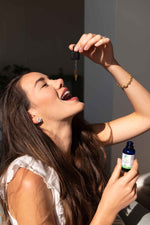 Determining the Right CBD Dosage for You | River Organics
As more and more people turn to CBD as a natural supplement, one of the biggest questions people have in regards to CBD is how to determine the dosage that will work best for them. This can be especially confusing given that CBD is available in many forms. Besides oils and tinctures, CBD can be formulated in creams, tablets, edibles and gummies.
Figuring out the right dosage for you depends on a variety of factors including your weight, age, any underlying conditions you may have, your metabolism, sensitivity and your body's typical response to substances, as well as the reason you are taking CBD.  The concentration of CBD in the product you are using (its potency) is a primary factor in determining what dosage is right for you.
Note that our CBD products contain well under the legally required 0.3% THC to avoid any psychoactive side effects. These small amounts of THC may lead to adverse results when testing for that substance. We believe that our full spectrum products are more effective than comparable broad spectrum products because of the entourage effect they offer. (See our blog on Full Spectrum and Broad Spectrum products).  
We recommend, especially if you are new to CBD, that you begin your intake gradually. The term used to describe taking small amounts of something and increasing gradually to allow your body to adjust to its effects is called titration. If your starting dosage does not produce your desired results, you may wish to increase in small increments of 5 - 10 mg, and maintain that level for about 1 week to gauge the effect.  Repeat this titration process as needed until you are satisfied with the effect. 
In this article, we will explore factors that impact CBD dosing, as well as address different kinds of dosing methods with various guidelines to help you determine what may be the best dosage for you. 
    

300mg Organic CBD Tincture
600mg Organic CBD Tincture
900mg Organic CBD Tincture
Standard Doses
There is no such thing as one-size-fits-all dosing recommendations. Standard doses of CBD are considered to be a natural supplement that may help to boost your overall wellness and health, and promote relaxation. Studies have shown that other possible benefits may help with a variety of symptoms. These statements have not been evaluated by the FDA, and our products are not intended to diagnose, treat, prevent or cure any disease. Be cautious and deliberate in your approach to the use of any new remedy. Don't overdo it and stay aware of any possible side effects, or drug interactions that may occur if you are taking any other medications. Please consult your physician or health care professional about the use of CBD.  
Many CBD users begin with 10 to 20 mg per day and gradually increase the dosage to obtain the desired effect.  For a 10 mg dose, this equates to one dropperful of our 300MG tincture, one-half dropperful of our 600MG tincture, or about 10 drops of our 900MG tincture. For a 20 mg dose, this equates to two dropperfuls of our 300MG tincture, one dropperful of our 600MG tincture, or about 20 drops of our 900MG tincture. For 10 mg of our high potency 1500MG tincture, you will only need about 6 drops, and for a 20 mg dose, you will need 12 drops of tincture. 


The Biphasic Effect
CBD may give rise to a biphasic effect – a smaller dose may have the desired effect, but a larger dose may not necessarily improve the effect. In fact, a higher dose can actually produce the opposite effect. Therefore, too much CBD could ultimately be less effective therapeutically than that of a moderate dose.  "Less is more" is often the case with cannabis therapeutics.  People often find that a small dose of CBD produces a clear and focused head that is calm and ready to face the day, while larger doses may be more sedating and work better in the evening before bedtime. 
Can You Take Too Much CBD?
We strongly encourage you to discuss your choice to take CBD with your physician or health care professional. Higher doses may cause drowsiness in some individuals, so you should be extremely cautious about driving or operating machinery if you have taken CBD. The possible side effects may include fatigue, changes in digestion, and changes in appetite. 
CBD is not regulated by the FDA, so it's up to you to make sure that you're using only high quality products. Look for products from a reputable brand that conduct 3rd party testing, and avoid products with a history of inaccurate labeling. There have been reports of bad reactions to CBD products that use synthetic CBD.  
River Organics CBD products are USDA certified organic, 3rd party tested, and include only natural ingredients. Our 3rd party testing verifies not only that our labels accurately reflect the contents, but also that the products are free from pesticides, herbicides and heavy metal contamination.
For more detailed information about CBD dosage, please enter your email address to receive our dosage brochure….
Final Thoughts
Discovering the appropriate dosage for you will very likely require some experimentation, and  remember it's a process that varies from individual to individual. Don't get discouraged if you don't achieve your desired effect immediately. We recommend that you keep track of your dosages and the effects that you are experiencing in order to learn what dosage and timing works best for you. Some new CBD users have learned the benefits only after decreasing or stopping their dosage, only to realize that the supplement was indeed giving them some benefit.
We at River Organics are committed to promoting the health of our community, referring to you and our customers as well as the planet as a whole. For this reason, we are dedicated to offering the highest quality organic CBD products made entirely sustainably, organically, responsibly and ethically on our family-owned farm in the Chesapeake Bay Watershed.