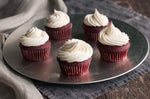 Start the new year off right with this delectable delight for all the senses. CBD-infused red velvet cupcakes are a favorite here, and we know you will love them too!
Recipe:
     Cake:
        3 1/2 cups flour 
        1/2 cup cocoa powder 
        1 1/2 tsp salt 
        2 tsp baking soda
        2 1/4 cups sugar
        2 cups canola oil  
        3 eggs 
        2 oz red food coloring 
        1 1/2 tsp vanilla 
        1 1/3 cups buttermilk 
 Frosting: 
        1 1/2 sticks butter
        1 1/2 bars cream cheese 
        1 1/2 tsp vanilla 
        1 oz River Organics 300mg Mint Tincture 
        A lot of powdered sugar. Just keep adding until you get a good consistency .
Instructions: 
Set your oven to 350 degrees. 
Batter: 
Add all dry ingredients into a mixing bowl and then add in wet ones and mix well. Bake for 7 minutes and then rotate the pan. Bake for another 7 minutes and then check every 2-3 minutes after that, until they are done. 
Icing: 
Mix the butter, cream cheese, CBD tincture and vanilla in until well blended. Then, add in the powdered sugar gradually until it's at the right consistency. 
Enjoy!