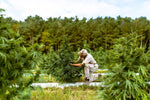 Raising Environmental Awareness for Earth Day | River Organics
From the title of this blog, you probably figured that today is Earth Day. We wanted to take this important day to spread environmental awareness about the state of our current climate and the health of our planet in general. 
The truth is humanity unfortunately tends to take our Earth for granted. But the fact is, we only have one home and it's this planet, and we need to collectively start taking better care of it. Because anything that affects our planet impacts the well-being of humanity as well. 
What is Earth Day? 
Earth Day is a call-to-action as a part of a global movement, aiming to encourage the people of our world to take crucial steps to heal our planet, and restore the integrity and health of our natural world. 
Here at River Organics, it is our mission and passion to improve the health and well-being of the environment, nearby ecosystems, and our community including you, our customers, as well as the whole planet as a whole. 
We produce all our USDA organically certified CBD products on our family-owned farm here in the watershed of the Chesapeake Bay. By maintaining strict organic and sustainable practices in our farming as well as all aspects of production, we aim to preserve and protect the health of this valuable ecosystem, our community and planet as a whole, also ensuring that our global footprint is as small as possible. 
On this Earth Day 2021, we also wanted to discuss the challenges American agriculture is currently facing, how regenerative agriculture poses a potential solution as well as  the steps Rivers Organics is taking to help restore the health of our planet. Later we will explore actions you can take in your daily life to encourage a more sustainable, eco-friendly future for our world. 
What Are The Problems American Agriculture is Facing?
The health of our soil is at jeopardy as a result of overfarming. Soil capacity is continuing to dwindle and according to agricultural experts, we may have only approximately 60 harvests remaining at the rate we are going. Without sources of healthy soil to plant and grow crops, the long-term health of our land and people is at risk.
What is Regenerative Agriculture & How Can It Enhance the Health of Our Land and Planet?
Regenerative agriculture is a kind of farming that seeks to improve the health of our land through the rehabilitation of our soil. Through the restoration of organic carbon, and implementing regenerative farming practices such as no till farming, and cover cropping, we can transform the health of our soil. Regenerative agriculture also offers a host of other benefits that can help potentially reverse climate change, having immense, long-term positive impact on the health of our land and humanity. 
What Steps Is River Organics Taking to Practice Regenerative Farming and Agriculture? 
Here at River Organics, we are dedicated to playing our part in helping promote soil conservation and restoring the health of our land and the Earth as a whole. We aim to preserve the health of our soil as well as nearby ecosystems and enhance environmental stewardship.
We implement regenerative farming practices such as the selection of organic cover crops planted during the winter months, and between our rows of hemp during the growing season. Simply put, such practices help enhance the structure and function of our soil, improving nutrient and water retention, while simultaneously mitigating the risk of erosion. We also adaptively select the types of cover crop we plant to meet the changing needs of our soil.  
In fact, River Organics was recently featured in Marijuana Business Daily in regards to our contributions in reducing our carbon footprint and the overall restoration of soil. Amongst our regenerative agricultural practices, we adhere to a specific production plan that helps mitigate carbon production. By spacing our crops in rows 8 feet apart, with a cover crop in between, we help maintain the health of the soil, preventing the growth of weeds and helping cut back our carbon footprint.
Our operations manager, Ryan Cross in an interview with Marijuana Business Daily explained our methods of alternating the crops we grow during the off season. "In the off season when we're not growing hemp, we have a legume or a winter rye." This production plan helps reduce the amount of time harvested plants need to be stored which helps slash down our carbon footprint. 
Our organic farming and production practices support the health of our environment by restoring soil and eliminating toxins from runoff into our local Chesapeake Bay watershed. This in turn helps protect and preserve the natural environment and flora and fauna of the region, helping conserve birds, wildlife and other Bay species including our oysters, crabs and fish. 
Beyond maintaining organic and sustainable practices in all our farming and production, our efforts to help promote the health of our environment, community and planet don't end there. We have pledged to donate a portion of all sales to environmental non-profit organizations to preserve and protect our natural heritage.
We invite you to join us in our mission to enhance the health and well-being of our community and our planet!
What Are Some Eco-Friendly Practices You Can Implement in Your Daily Life for Earth Day and Beyond?
Incorporate more plant-based foods into your diet to protect our animal species and fight climate change.

Determine just how much impact your meals have on the planet using a

footprint calculator

.

Sign the petition to promote

climate and environmental literacy

. 

Calculate your

personal carbon footprint

and then learn how you can take steps to reduce it. 

Commit to the use of reusable grocery bags over single-use plastic bags.

Limit food waste by

composting

your food. 

Learn how to

take action against plastic pollution

.

Discover how you can help promote

clean energy

.

See how you can help

spread environmental awareness

.

 Find out tips on how to

organize your own cleanup

.
When you purchase River Organics products, you support regenerative and sustainable farming to cultivate a healthy environment to help restore our natural world and enhance the well-being of humanity.