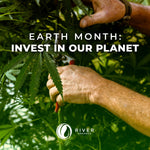 5 Ways Organic CBD Can Serve as an Investment in Our Planet and Ourselves During Earth Month
Every April, people around the globe join a collective celebration in honor of Earth Month. It's an intentional time to pause, consider our own actions, and take practical steps to protect our environment – and ourselves. This year's theme, "Invest in Our Planet," is particularly fitting for River Organics. We make a choice every day to invest in organic, sustainable and environmentally-conscious processes, ensuring that our CBD products are good for our customers and for our planet. Here are five reasons to only choose CBD products that are designed to protect our environment and our bodies.
Soil is Mission-Critical
At River Organics, honoring the planet starts from the ground up. Our soil, which has been in a Conservation Reserve Program (CRP) administered by the U.S. Farm Service Agency for more than 20 years, is the key to healthy beginnings. Microorganisms are integral in synthesizing and recycling nutrients within the soil and are essential in removing pollutants. In fact, soil provides 15 of the 18 essential nutrients for successful plant populations. Any disruption in the cycle of growth and decay, will affect the entire ecosystem, including humans.

Unfortunately, many farmers damage the soil every day through the increasing use of pesticides that have a negative impact on soil. Most pesticides end up in the soil, ground water, and water system, ultimately disrupting and harming nearby ecosystems and impacting humans. That's why we source our CBD from hemp plants grown on our family-owned farmland in Gloucester, Virginia on land that has been part of the Conservation Reserve Program, aligning with our goal to improve environmental health and quality for all. For over two decades, our soil has been pesticide-free, allowing the soil's flora and fauna to reach optimum levels for plant nutrition and a healthier planet.

Hemp is a Bioaccumulator
As a bioaccumulator, hemp functionally cleans the environment by absorbing materials, good and bad, from the soil and accumulates potentially harmful and toxic chemicals and substances. While bioaccumulators collect these various materials, they do not release them back into the environment as waste. This is why hemp, as an example, was used to remediate nuclear waste, toxins and heavy metals from the soils contaminated in the aftermath of the Chernobyl nuclear power plant disaster of the 1990s. When a plant bioaccumulator, such as the hemp plant, is used to cleanse the earth, we call it phytoremediation. At Chernobyl, which was the most catastrophic nuclear disaster to ever face Earth, it was initially believed that the infected soil was polluted beyond the point of restoration. However, when industrial hemp was used as a bioaccumulating agent, it significantly removed the toxicity of the soil at Chernobyl.
Because the hemp plant is such a strong bioaccumulator, it's critical for people enjoying the benefits of CBD to only rely upon products that are organically and responsibly farmed without the use of pesticides or herbicides and grown in soil free of toxins. By using certified organic CBD products, customers can be confident that all aspects of CBD production were performed under stringent organic requirements and that pesticides or herbicides weren't used in any part of the process.
By choosing organically sourced and produced CBD, customers can make a healthier choice for themselves and a more responsible choice for the planet. To receive the maximum benefit from CBD products, River Organics uses USDA Certified Organic Hemp seeds grown under the supervision of a horticulturalist without the addition of harmful pesticides and insecticides that can be transferred to the CBD products. Our CBD is then extracted on site through a certified organic process and monitored by an independent third party for CBD purity and the presence of pesticides or heavy metals. Every product at River Organics has the highest quality control, beginning with the way we take care of our soil.
Sustainable Agriculture and Extraction Practices Matter
Every step matters in the growing and extraction process – including conservation tillage, companion planting, and cover cropping. Once our organic plants reach maturity, they are harvested and hung by hand to dry in our drying facility. By using only dehumidifiers and fans in our drying process, and no additional heat, the River Organics team strives to further decrease our carbon footprint and better preserve the fragile compounds produced by the plant – which also boosts the holistic benefits. After our plants have fully dried, we then lovingly move them half a mile across the farm to our state-of-the-art lab where our CBD-rich hemp extract is created. At River Organics, we always use USDA certified organic sugarcane alcohol, produced in alignment with our core value of environmental stewardship, as part of the extraction process. Through this process we always make it a point to separate, recover, and continually reuse our organic alcohol in a manner that is compliant with GMP standards. After the extracted, cannabinoid-rich oil is separated from all organic alcohol, it is used to create every one of River Organics' award-winning products. To make our products, we exhaustively source the highest quality ingredients and packaging, which are environmentally friendly and come from socially responsible vendors. We encourage our customers to reuse, recycle or compost all River Organics' packaging.
Audits Ensure a Healthy Process, Better Product, and Healthier Planet
At River Organics, we believe that every ingredient and processing aide in a quality CBD product should be either certified organic or audited to ensure it is free of synthetic additives, chemical fillers, fertilizers, and pesticides and is also not genetically modified. Audits of CBD products ensure that customers have an opportunity for a healthier choice as compared to a non-organic counterpart. We embrace the auditing process because organic products are created in a way that is not only better for the health of the customer – but also better for the planet by helping to preserve ecosystems and promote environmental stewardship and soil conversation. River Organics encourages customers to review our Certificates of Analysis & Pesticides and Heavy Metals Report here.
Hemp Farming as a Force for Good
At River Organics, we believe that it's our responsibility to use our family-owned farm as a force for good. That's why we are a proud member of 1% for the Planet, an organization that pairs businesses with a network of approved environmental partners to improve the health of our planet.
1% for the Planet started in 2002 when Yvon Chouinard, founder of Patagonia, and Craig Mathews, founder of Blue Ribbon Flies, bonded over their shared love for the outdoors. Realizing their responsibility to protect our planet, they decided to give 1% of their sales back to the environment. Soon after, 1% for the Planet's mission began to resonate across the world and brands such as Brushfire Records, Klean Kanteen, New Belgium Brewing, Caudalie and many more followed suit to join the movement.
Today, the 1% for the Planet network is global and diverse, proving that anyone can make a difference. Businesses that join 1% for the Planet commit to giving 1% of their gross sales each year to approved environmental partners. At River Organics, we're proud to be one of more than 5,000 members coming together to protect the future of our planet while collectively generating more than $435 million to approved environmental partners. You can see the 1% for the Planet model in action and read more about its incredible network of members and environmental partners here. River Organics encourages customers to learn more about the many ways everyone can get involved with 1% for the Planet—join, donate, and spread the word.
From our hands, in our healthy soil, to your hands, always. From tinctures to bath bombs to tea and massage oils, you can rest assured that River Organics provides only the healthiest and highest quality CBD. Happy Earth Month